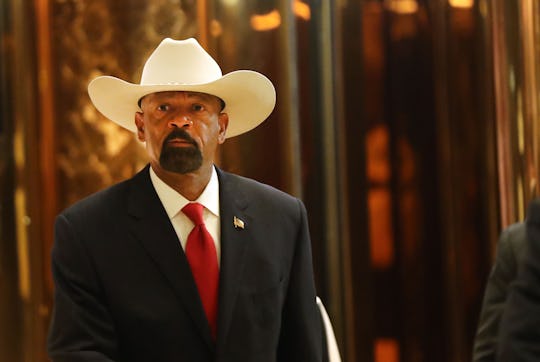 Spencer Platt/Getty Images News/Getty Images
Controversial Sheriff Gets Homeland Security Gig
If you thought you were done hearing about Trump's presidential appointments, think again. Unfortunately, the administration's latest pick to come to Washington, Sheriff David Clarke, isn't exactly well-liked among the public or free from scandal. But just because he's got his fair share of notoriety doesn't mean everyone has heard of him. So, who is Sheriff David Clarke? He just got a job in Homeland Security, and that's not exactly good news in a lot of people's eyes.
Clarke, who has served as sheriff of Milwaukee County in Wisconsin since 2002, has been a vocal supporter of President Trump, and even spoke at the Republican National Convention last summer, though he is a registered Democrat.
Speaking with conservative radio host Vicki McKenna on Wednesday, Clarke stated, "I'm both honored and humbled to be appointed to this position by Secretary Kelly, working for the Trump administration." Clarke will serve as an assistant secretary in the U.S. Department of Homeland Security, working "in the Office of Partnership and Programs as a liaison with state, local and tribal law enforcement," according to The Hill.
But perhaps the most disturbing issue in Clarke's appointment to DHS is that a man who reportedly was previously set to be investigated by the Department of Justice will now have even more power to propagate his own particular brand of "justice."
As Milwaukee FOX affiliate WITI reported in December, the DOJ was previously considering starting an investigation into Clarke regarding "four deaths within a six-month period at the Milwaukee County Jail -- which Clarke is in charge of." Clarke has, for his part, denied any wrongdoing on his department's part, lashing out instead at politicians like Rep. Gwen Moore of Wisconsin's 4th district and claiming they are the root of the problem.
"Oh stop it with the fake news," he told WITI in a statement. "There will be no federal investigation of the jail. The only pattern is that I continue to support Pres-elect Donald Trump. After Jan 20, 2017, Jeff Sessions will head the US DOJ. Then the politics will stop. [Congresswoman Gwen Moore] should work on bringing jobs to black people in Milwaukee and stop embracing criminals."
Clarke has made his stance on law enforcement extremely clear: He is pro-mass incarceration, and extremely tough on crime. He is a member of the National Riffle Association, and continuously refers to former presidential candidate and Secretary of State Hillary Clinton as "Mrs. Bill Clinton" on his Twitter page. He has also referred to the Black Lives Matter as "Black lies matter," and claimed that they will soon join forces with ISIS.
Unfortunately for those who are (rightly) concerned about all those things, it seems their worst fears have come to fruition: Sheriff David Clarke is far from a proponent for equality and responsible justice — and he just got a major promotion.