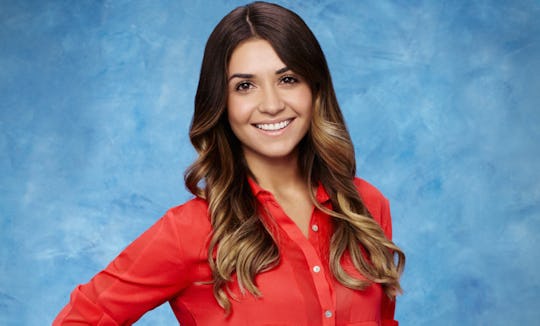 ABC
Who Is Shushanna On 'Bachelor In Paradise'? The Language Of Love Is Global
Contestants on The Bachelor and The Bachelorette will do a lot to earn the first impression rose. On Ben's season, JoJo walked out of the limo and greeted him wearing a unicorn mask. Another woman brought an actual pony. One woman didn't speak English for the whole first night, and this lady might be making a comeback in Paradise. Who is Shushanna on Bachelor in Paradise? She left fairly early in the season, so you might not remember her, but she was the woman who spent the entire episode speaking only in Russian. She probably would have made more of an impression if anyone had actually been able to understand what she was saying.
It looks like Shushanna will be one of the next arrivals on the resort for Bachelor in Paradise. Hopefully this time she'll speak in English when she meets the rest of the cast members. She'll have to make a love connection pretty quick if she wants to stick around. And it's pretty tricky to get to know someone if you can't understand what they're saying. The "language of love" may be a thing, but personally I'd still like a common language that can give me specifics. Like what are your political views and what's your last name? Luckily Shushanna can speak English when she chooses, and she also posts to social media, which gives us a little more info on her. So what can we tell about Shushanna besides the fact that she's Russian?
She's Athletic
I don't know what this is, but it looks painful.
She's Outdoorsy
Shushanna posts a lot of pictures and videos of herself surrounded by nature, either in front of a waterfall, rock climbing, hiking, or doing yoga in front of a gorgeous sunset.
She Works Hard
The concept of the side hustle is nothing new. Sometimes a girl's gotta do what a girl's gotta do. While studying to become a math teacher, Shushanna puts in #workworkwork behind the bar at a restaurant in Salt Lake City.
She's Still Close With Her Bachelor Friends
Luckily for her, when Shushanna arrives at the resort for Bachelor in Paradise, she'll be joining some old co-stars and friends who hopefully will make her feel right at home.