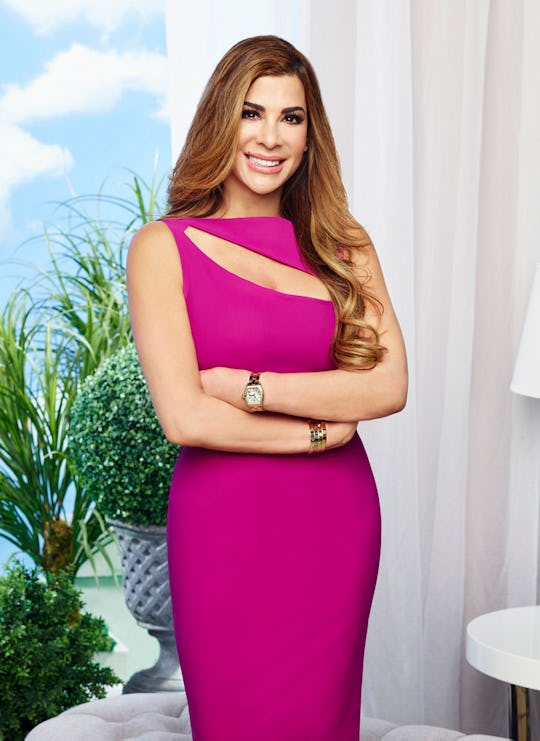 Tommy Garcia/Bravo
Who Is Siggy Flicker's Husband On 'Real Housewives'? He's A Keeper
Praise the Bravo Gods, The Real Housewives of New Jersey is back. And with the return of the recently released Teresa Giudice, the women are going to need some dynamite relationship advice to get back to being a loving (if occasionally dysfunctional) family/friend group. Luckily, one of the two new cast members, Siggy Flicker, is a relationship expert. We have to wait and see if she's up for the challenge of this particular group of personalities, but from the looks of things, she's got the perfect resume. Siggy divorced her first husband amicably, and remarried in 2012, proving she knows how to reconcile. So who is Siggy Flicker's husband?
Siggy married Michael Campanella in 2012, and her first husband, Mark Flicker, served as the Best Man. This fact is basically all the credentials I need from Siggy. I'm no relationship expert myself, but this seems like some next level emotional maturity that I heartily applaud. Michael is a successful car dealer in New Jersey, with a net worth of over $5 million, at least according to The Net Worth, which cannot always be counted as 100 percent accurate and acts much more as an estimation.
The two seem to have a rock solid relationship, even though Siggy has admitted that "on paper", Michael didn't seem to be exactly her type. The Bravo blog reported that Siggy said in the Palm Beach Post, "He sold Jeeps and Chevrolets, and he'd been successful and had lost it all. He doesn't have any hair on top. But my heart was pounding. We started talking, and he was not afraid to admit his failures. That was sexy to me."
Other than his profession and his relationship to Siggy, there's really not much else to be found out about Michael as of right now. Luckily, the husbands on The Real Housewives of New Jersey tend to play a big part in storylines. Sometimes, as with the Giudices and the Gorgas particularly, the husbands play almost as big a part as the Housewives. We may be learning a whole lot more about Michael in the future, and I can't wait to see how he gets on with the other guys.