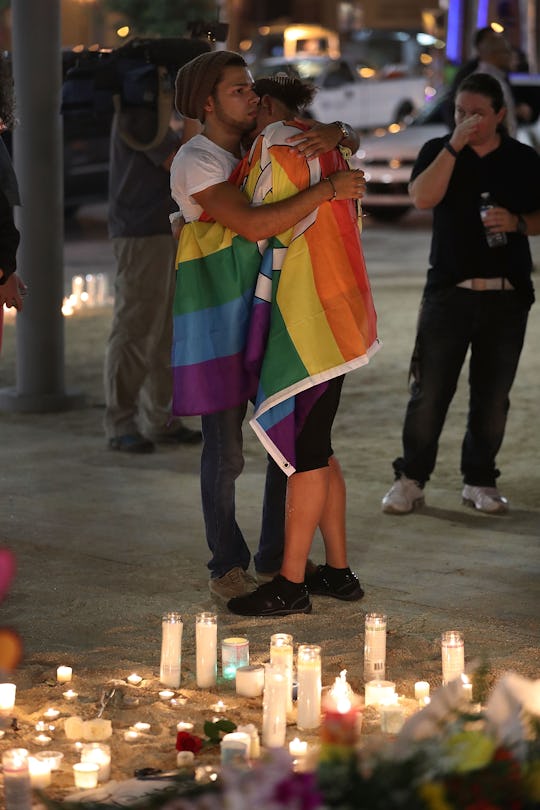 Joe Raedle/Getty Images News/Getty Images
Who Is Simon Adrian Carrillo Fernandez? A Beloved Leader & Friend Killed in Orlando
As we get to know the people who were ruthlessly gunned down in Pulse Nightclub, it's easy to start to see ourselves in so many of those smiling faces. You can picture them dancing at 2 a.m., laughing, drinking and telling stories. Now we know one of the victims was named Simon, he was murdered, along with his partner, in Orlando in what is now considered the deadliest mass shooting in American history. Who is Simon Adrian Carrillo Fernandez? Friends remember him as someone always striving to be the very best.
The Orlando Sentinel spoke with Carrillo's friends and they told stories about a guy who was driven, loved his job, and never forgot a birthday. He worked as the general manager of the world's largest McDonald's location, and, according to his co-workers, he never failed to remember a birthday, always toting in a cake and taking pictures to help make their special day a little more special.
Carrillo was just 31, and was killed alongside his partner Oscar Aracena-Montero inside the Pulse Nightclub on Saturday night.
The Sentinel reported that his friends and family are reeling, left "distraught and falling apart."
One friend reacted to the news of Carrillo and Aracena's death with this Facebook comment, according to Heavy. Denise Ortiz-Pagan reportedly wrote:
This world is so messed up!!!...you see it in the new, hate and tragedy comes to your town ...then you find out these two amazing, full of life young hard working loving couple, that always minded there own business. ...(they) got home Saturday afternoon from an amazing vacacion were among the perished ones and it just rips your heart out. Simon A. Carrillo and Oscar Aracena Rest in Peace you beautiful souls...and may we all find a way to heal and go on! God help us!!!!
They were killed along with other just as outstanding and beloved people in their community, the group of 49 dead in the Orlando shooting included mothers, baristas, dancers, accountants — people from all walks of life gathered to celebrate everyday joys on a summer Saturday night.
Carrillo loved to travel and would save up for trips, including the one he and his partner had just returned from to Niagara Falls. He had also traveled to the Dominican Republic and Puerto Rico and went to Mexico and on cruises to Anna Maria Island and Playalinda Beach, his McDonald's co-worker Ivonne Irizarry told the Sentinel.
"He worked to enjoy his life," Irizarry told the Sentinel. "He had to be the best, that was his thing. I cook the best, I clean the best, I work the best." Carrillo and his partner had also just bought a home in Kissimmee, Florida, where they had just celebrated Aracena-Montero's birthday a week before.
In addition to his work and home life and travel, friends told the Sentinel that Carrillo loved biking, water skiing, and dancing to salsa and meringue music. And perhaps his friends and family can eventually take some solace that Carrillo died with his love by his side, celebrating life and dancing the night away.
His co-workers will always remember him for the pride he took in his work and the type of boss he was. "He was definitely the description of a leader, not a boss," Irizarry added.
Just one of the 49 lives taken from loved ones in a few shattering minutes when a gunman armed with an AR-15, a semi-automatic weapon which can fire up to 45 rounds per minute, walked into Pulse with an intention to cause as much damage as possible.