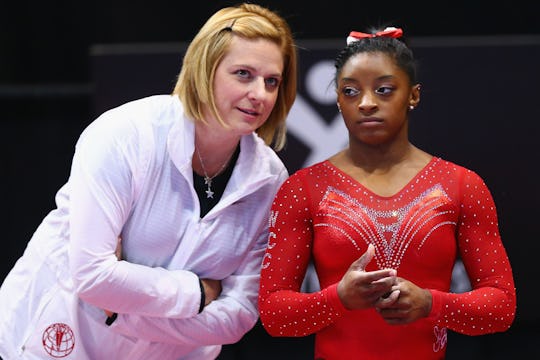 Maddie Meyer/Getty Images Sport/Getty Images
Who Is Simone Biles' Coach? Aimee Boorman Has Coached Biles To Victory
If people aren't familiar with United States gymnast Simone Biles, they're about to be. Biles is one of the five women competing in the 2016 Rio Olympics on the U.S. Women's Gymnastics Team and is expected to do great things once the Olympics start this Friday. After watching Biles compete, there are bound to be a lot of questions asked pertaining to Biles and how she became one of the greats. Questions like "Who is Simone Biles' coach?" are bound to come up during the over the next few weeks, as gym parents everywhere scramble to register their kids there too.
As it turns out, coach Aimee Boorman has been coaching Biles to greatness since day one. According to Triple Twist Gym Blog, Biles walked in to Bannon's Gymnastix in Houston, Texas for a daycare field trip years ago and "was recommended to sign up for classes." After that day, Biles was paired with Boorman and the rest was history — no, seriously — Biles has won more gold medals than any other woman gymnast in history. But she couldn't have done it without her partnership with Boorman, who has stuck by Biles' side through the thick and thin. Biles expressed her appreciation for Boorman, telling NBC Olympics:
I always say she's like the second mom to me because she's been there since I was like 8-years-old, and so thats 10 years that she's always been by my side. I'm very fortunate to have a coach that I got to stay with all this time. Every year the bond gets stronger and better and we understand each other more. And it's like she can tell if I walk in the gym what kind of mood I'm in, what she has to fix for the practice I need or how I'm feeling. So it's really nice to have someone that can just like read me right off the bat when I walk in the gym.
According to NBC, Boorman had never coached an elite gymnast before coaching Biles — but their partnership worked, leading Biles to become one of the most decorated gymnasts and Boorman to win two USOC National Coach of the Year awards for gymnastics. But Boorman wasn't a stranger to gymnastics before coaching Biles. According to the Houston Chronicle, Boorman took up coaching because she loved the sport and thought one day, she could possibly coach an Olympian. Those dreams came true.
You can tell that Boorman is so proud of all that Biles has accomplished during her 19 years and their time working together — from a field trip to the Olympics. One look at Boorman's Twitter account shows that she could not be prouder of Biles for getting to where she is today.
Even in interviews, Boorman's passion for gymnastics and coaching Biles comes through. "You can constantly learn things and be a student of life," Boorman told the Houston Chronicle. "I love coaching. That is what I do. Gymnastics is my passion."
The bond between Biles and Boorman is apparent — it has to be, considering that Boorman coached Biles to numerous world champions and now the Olympic floor. Be on the look out as Biles will compete in the Women's Gymnastics Qualifiers on Sunday, where she will put all of the skills she learned from Boorman to good use.