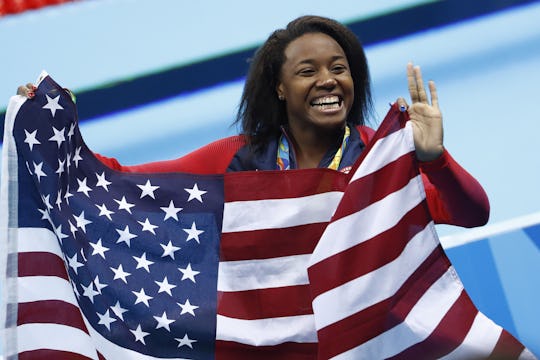 ODD ANDERSEN/AFP/Getty Images
Who is Simone Manuel? This Swimmer Just Made U.S. Olympic History
As the Summer Olympics continue in Rio de Janeiro, Brazil, Team USA takes home yet another gold. The latest Olympian to add another gold to the United States's increasing medal count was swimmer 20-year-old Simone Manuel. Who is Simone Manuel? Her gold medal in the women's 100 meter freestyle on Thursday just made history for the U.S. Olympic swim team: Manuel just became the first African-American to win an individual Olympic swimming event. Manuel shared her gold with Canadian swimmer Penny Oleksiak, as they both touched the wall at the exact same moment. Their simultaneous win also put them both in the Olympic record books, by setting a new Olympic record time of 52.70 seconds.
Manuel hails from Sugar Land, Texas and is just finished her freshman year at Stanford University in California; she has yet to decide on a major, but is reportedly considering a major in communications or science, technology and society according to the Team USA website. Photos from the event and medaling ceremony show an emotional Manuel. She not only set a new Olympic record, made Team USA history — but she did both while making her Olympic debut in Rio this month.
Even though Manuel has made history with her gold medal, it isn't her first Olympic medal of the games. Last Saturday, Manuel took the silver in the women's 4 by 100 meter freestyle relay swimming event, sharing the medal with her Team USA teammates, including Katie Ledecky — her roommate at the Olympic Village.
Manual joins the ranks of other African-Americans who have made history with Team USA, such as Maritza Correia McClendon and Cullen Jones. In 2004, McClendon became the first African-American to ever earn a spot on the U.S. Olympic swim team. Jones was the first African-American to break a world record in swimming. The historical significance of her win was not lost on Manuel. In an emotional interview with NBC Sports just moments after her win, Manuel breathlessly offered her initial thoughts on her history-making win:
It means a lot. This medal is not just for me, it's for a whole bunch of people who came before me and have been an inspiration for me — Maritza, Cullen — and it's for all the people after me who believe they can't do it and I just want to be an inspiration to others that we can do it.
Congratulations, Simone: You absolutely are an inspiration to millions of kids and Olympic hopefuls.