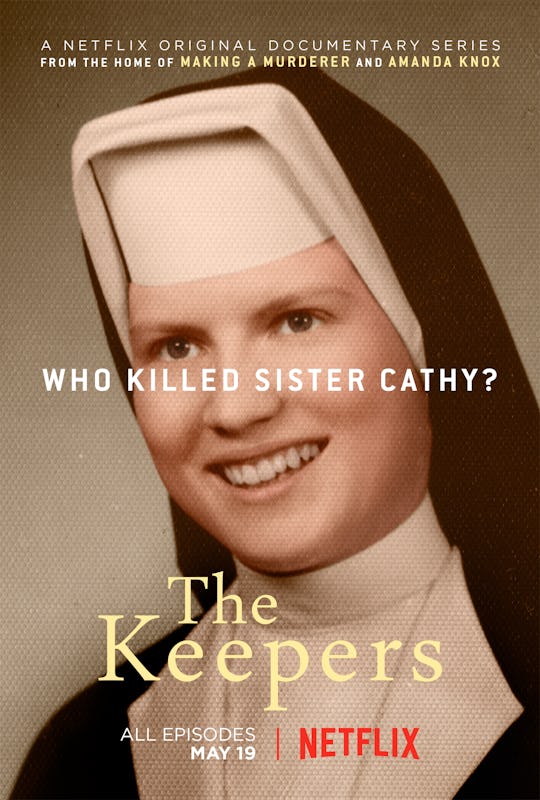 Netflix
Sister Russell Phillips Was A Key Figure In Sister Cathy's Life
Sister Catherine Cesnik, a 26-year-old Baltimore nun, was killed in 1969, and her murder has gone unsolved ever since. But the stars of Netflix's The Keepers have a pretty solid theory about who killed her and why. Cesnik's former students at Archbishop Keough High School are convinced that their beloved teacher's death was somehow connected to the alleged clergy sex abuse at Keough. Based on this shocking allegation, many are now wondering about other clergy members whose names pop up in connection with the case and asking questions like, "Who is Sister Russell Phillips on The Keepers?"
Helen Russell Phillips was Cesnik's roommate at the time of her death, according to The Huffington Post. The two women, both nuns, "lived in a modest apartment in Southwest Baltimore," where Cesnik's students were welcome to stop by after school or on weekends to confide in the young teacher. Per Inside Baltimore's investigation into the nun's death, Phillips and Cesnik did not live in the traditional nun's convent because they'd been granted permission by superiors to begin a period of "exclaustration," which involved living outside the convent and wearing regular clothing rather than the traditional nun's habit. Cesnik had requested her "exclaustration" in the months before her death, at which point she also left Keough to become a "missionary" teacher at a local public school, Western High, where she was employed at the time of her death.
Phillips is a notable figure in the case not just for her role as the murder victim's roommate but because of how she reacted when Cesnik initially went missing. According to the same HuffPost report, Phillips told authorities that, the day she went missing, Cesnik had said she was going to the bank and then to shop for her cousin's engagement gift — but she never made it home. When she hadn't returned by 11 p.m. that night, rather than calling the cops, Phillips called two priest friends, including Gerard Koob. The three didn't phone the police until about an hour or so later.
Koob (pictured above in conversation with Abbie Schaub and Gemma Hoskins, two former Keough students at the heart of The Keepers' investigation) is another notable figure. He had been romantically involved with Cesnik prior to her death, to the point where she might have left the nunhood for him. "I said, 'If you decide to leave, we'll leave and get married,'" Koob stated in the same HuffPost interview, regarding what he'd said to Cesnik just three days before her death. Koob is now a Methodist minister in New Jersey.
Viewers will learn more about how Sister Russell Phillips and Koob new Cesnik when The Keepers premieres on Netflix on May 19.