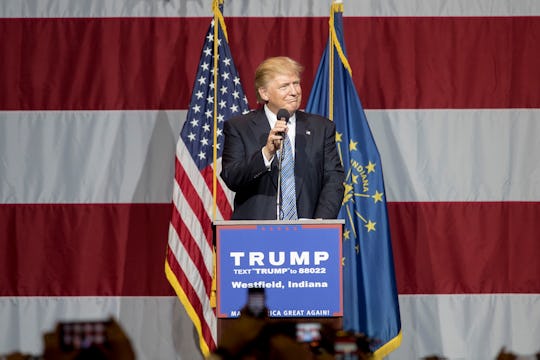 Aaron P. Bernstein/Getty Images News/Getty Images
Who Is Speaking At The Republican National Convention? The List Is Really Weird
The RNC released the names of speakers for 2016. Who is speaking at the Republican National Convention? Some who made the list may be surprising.
Republicans traveling to Cleveland, Ohio for the July convention can expect to hear from more than 60 speakers. Some of the names on the list are expected: Trump's wife Melania and four of his five kids will give speeches (1o-year-old Barron may be a bit too young to step up to the microphone, but he'll likely be cheering on his dad). Several of Trump's most outspoken supporters will also get time at the podium, including New Jersey Governor Chris Christie and former Speaker of the House Newt Gingrich.
The list also includes some unusual picks, including a professional golfer, the CEO of Ultimate Fighting Championship (UFC), and two soap opera stars. Attendees will likely also be interested in hearing from speakers who hesitated to endorse Trump, including House Speaker Paul Ryan and Texas Sen. Ted Cruz. It looks as though the RNC speakers will collaborate to make a strong case for Trump's nomination; but if the campaign so far is any indication, the speeches will be anything but predictable.
Here's the full list of RNC speakers:
Pastor Mark Burns
Burns founded The NOW Television Network focusing on Christian programming, and he currently serves as the network's president. He is expected to speak Monday night; he told Politico that he intends to talk about presumptive Republican nominee Donald Trump as a man with heart and a unifying mission.
Phil Ruffin
Businessman Ruffin is worth $2.6 billion, Forbes reported; he is ranked at 722 on Forbes' list of The World's Billionaires. Earning his fortune in casinos and real estate, he is known for buying the Treasure Island Resort & Casino during the recession and building it into a business worth an estimated $1.3 billion (it only cost him $755 million). He's campaigned for Trump in the past; according to The Wichita Eagle, he spoke about Trump's business record during a rally in Kansas.
Montana Rep. Ryan Zinke
Rep. Zinke served as a U.S. Navy SEAL before becoming a State Senator; his bio indicates that he is on both "the House Armed Services Committee and the House Committee on Natural Resources." He endorsed Trump in May, TIME reported; he indicated that Trump's experience as a businessman could help revive the economy.
Pat Smith
Though the list of speakers published on the RNC website doesn't give biographical information, Smith may be the mother of one of the victims of the attack in Benghazi, Sean Smith; according to MSNBC, she said that "Hillary didn't answer the questions" during the hearing in October.
Mark Geist
Geist served in Benghazi and helped with rescue work during the attack, according to a press release on Trump's website; he endorsed Trump in February and now appears in a National Rifle Association (NRA) commercial in support of the candidate.
John Tiegen
Tiegen served as a Marine Sergeant before joining the CIA's Global Response Staff; his bio on the Premiere Speakers Bureau website states that he co-authored the book 13 Hours that details the life-saving actions he took during the Benghazi attack.
Texas Rep. Michael McCaul
Rep. McCaul is in his sixth term in Congress; according to the biography on his website, he is the Chairman of the House Committee on Homeland Security and the Chairman of the U.S.-Mexico Inter-Parliamentary Group (I.P.G.).
Sheriff David Clarke
Sheriff Clarke serves Milwaukee County, Wisconsin. He is the host of podcast The People's Sheriff, and The Atlantic reported that he is an outspoken critic of the Black Lives Matter movement and a major supporter of Trump.
Wisconsin Rep. Sean Duffy
Before entering politics, Rep. Duffy grew to prominence as a professional lumberjack athlete and a cast member on The Real World, according to his bio. Now, he is the Chairman of the Subcommittee on Oversight & Investigations within the House Financial Services Committee.
Darryl Glenn
A candidate for Senate in Colorado, Glenn is the El Paso County commissioner; The Denver Post reported that he is known as a strong speaker, but this will be his first big step into the national spotlight.
Arkansas Sen. Tom Cotton
An Army veteran, Sen. Cotton served as a congressman before joining the Senate; according to his official bio, he is Chairman of the Air Land Power Subcommittee within the Armed Services Committee. He also serves on the Banking Committee and the Intelligence Committee.
Karen Vaughn
Vaughn is the mother of fallen Navy SEAL Aaron Vaughn, NBC Nightly News reported. Her son died in a 2011 helicopter crash in Afghanistan that killed 30, according to CNN.
Arkansas Governor Mike Huckabee
Huckabee served as the Governor of Arkansas between 1996 and 2007; his bio indicates that he is a New York Times bestselling author and a Fox News contributor. He ran for the 2008 and 2016 Republican presidential nominations.
New York City Mayor Rudy Giuliani
Giuliani followed his tenure as New York City mayor from 1994 to 2001 with a 2008 run for president, according to HISTORY.com.
Melania Trump
Melania is Trump's third wife; according to her bio, she started modeling as a teenager, studied design and architecture at the University of Slovenia, and went on to create jewelry and skin care collections.
Iowa Sen. Joni Ernst
Sen. Ernst is a retired Lieutenant Colonel; her biography states that she spent 23 years in the military before becoming "the first female combat veteran elected to serve in the United States Senate." Though there was speculation that Ernst would be Trump's running mate, Politico reported that she told Trump she wanted to stay in Iowa.
Kathryn Gates-Skipper
Gates-Skipper was "the first female Marine to serve in combat operations," Refinery29 reported. She endorsed Trump in November.
Marcus Luttrell
Luttrell is a former Navy SEAL; according to his bio, he is the author of Lone Survivor (now a major motion picture), a book about Operation Redwing.
Dana White
Dana White is President of Ultimate Fighting Championship (UFC), CBS Sports reported.
Arkansas Governor Asa Hutchinson
Before becoming Governor of Arkansas, Hutchinson was Director of the Drug Enforcement Administration; according to his biography, he was also the first Undersecretary of the Department of Homeland Security.
Arkansas Attorney General Leslie Rutledge
Rutledge is the first female Attorney General of Arkansas; her bio states that she previously worked as Counsel for the RNC.
Michael Mukasey
Mukasey is a former U.S. Attorney General, MSNBC reported. He made headlines for his comments leading up to the FBI investigation of former Secretary of State Hillary Clinton's emails.
Andy Wist
It's unclear who Andy Wist is; according to Vox his Google results only "reflect that he is, in fact, on the list of RNC speakers."
Alabama Sen. Jeff Sessions
Sen. Sessions was an early Trump supporter; NPR reported that he "was the first sitting senator to endorse Trump's candidacy."
Retired Lt. Gen. Michael Flynn
Flynn is the former director of the Defense Intelligence Agency. Though The Intercept reported that he's a registered Democrat, Flynn is critical of Obama's approach to national security and is a vocal Trump supporter.
Alex Smith
Smith serves as the National Chairman of the College Republican National Committee. According to the CRNC website, she is a licensed attorney and a graduate of both The Catholic University of America and Seton Hall University School of Law.
Speaker Paul Ryan
Though he only became Speaker of the House in 2015, Ryan is in his ninth term in Congress. His bio states that he previously chaired the House Ways and Means Committee.
California Rep. Kevin McCarthy
Rep. McCarthy is the House Majority Leader; according to his bio, he started as a congressman in 2006.
Kerry Woolard
Woolard is the general manager of Trump Winery. The winery website lists her as one of three members of the team, with Eric Trump as president.
West Virginia Sen. Shelley Moore Capito
Sen. Capito is the first West Virginia woman elected to the U.S. Senate; according to her biography, she served in the House of Representatives for 14 years.
Dr. Ben Carson
After an unsuccessful run for the 2016 Republican presidential nomination, the retired neurosurgeon joined the selection committee to choose Trump's running mate, The Boston Globe reported.
Co-Chair Sharon Day
Day is the Co-Chairman of the Republican National Committee; according to the GOP, she was the RNC Secretary between 2009 and 2011.
Natalie Gulbis
Gulbis is a professional golfer. In an essay for Golf Magazine, she revealed that she first met Trump as a 21-year-old and went on to be a contestant on Celebrity Apprentice.
Kimberlin Brown
Brown is a soap opera star with roles on The Bold and the Beautiful and The Young and The Restless, Soaps.com reported.
Antonio Sabato, Jr.
Sabato Jr. stars as Dante Damiano on B&B and Jagger Cates on General Hospital, according to Soaps.com.
Peter Thiel
Thiel is the co-founder of PayPal; The Verge reported that the billionaire investor is also on the board of Facebook.
Eileen Collins
Collins was the first female NASA astronaut to take the lead on a space shuttle mission, according to SpaceNews.
Texas Sen. Ted Cruz
Though former presidential hopeful Sen. Cruz agreed to speak at the Republican National Convention, Politico reported that Cruz indicated in a June MSNBC interview that he hesitated to endorse Trump.
Former House Speaker Newt Gingrich
After serving in the House as a congressman from Georgia, Gingrich ran for president in 2012. Gingrich is a strong supporter of Trump and, as CNN reported, became a top candidate to be Trump's running mate.
Michelle Van Etten
Van Etten's bio is unclear; the RNC did not list any information about her beyond her name. A Google search suggests she may be an entrepreneur.
Lynne Patton
Patton works as the Vice President of The Eric Trump Foundation (ETF) and is Senior Assistant to Eric Trump, Ivanka Trump & Donald Trump Jr. According to the foundation's website, ETF provides financial support to St. Jude Children's Research Hospital.
Eric Trump
Trump's son Eric is the Executive Vice President of Development and Acquisitions for The Trump Organization; his bio indicates that he's in charge of the Trump Golf Collection.
Harold Hamm
Hamm is the Chairman and CEO of Continental Resources; Forbes reported that he has a net worth of $11.7 billion as of July 14.
New York Rep. Chris Collins
Rep. Collins started as a congressman in 2012; his biography indicates that he is on the House Energy and Commerce Committee.
Brock Mealer
Mealer is known for making a remarkable recovery following a car crash, the Detroit Free Press reported. Despite a 99% chance that he would never walk again, the Wauseon, Ohio resident is now able to "walk unassisted."
Tennessee Rep. Marsha Blackburn
Rep. Blackburn is Vice Chair of the Energy & Commerce Committee and Chairman of the Select Investigative Panel on Infant Lives, according to her bio.
Governor Mary Fallin
Fallin is the first woman to become Governor of Oklahoma; her bio indicates that she previously served in the House of Representatives.
Darrell Scott
Scott is the pastor at New Spirit Revival Center in Cleveland, Ohio, MSNBC reported. He is also the CEO of the National Diversity Coalition for Trump (NDC for Trump).
Lisa Shin
Dr. Shin is listed as a Korean-American for Trump on the NDC for Trump website; she is one of the organization's advisors.
Florida Governor Rick Scott
Scott served in the Navy before attending law school, according to his bio. Founder of both the Columbia Hospital Corporation and Conservatives for Patients' Rights, Scott is now the 45th Governor of Florida.
RNC Chairman Reince Priebus
Priebus is in his third term as Chairman of the Republican National Committee; his bio on the GOP website indicates that he previously served as chairman of the Republican Party of Wisconsin.
Tom Barrack
Barrack is a real estate investor who founded Colony Capital, Forbes reported; he made the 2013 Forbes list of billionaires but dropped off the list in 2014.
Ivanka Trump
Trump's daughter Ivanka is the Executive Vice President of Development & Acquisitions for The Trump Organization; her biography indicates that she is in charge of "domestic and global expansion of the company's real estate interests."
Florida Attorney General Pam Bondi
Bondi started work as Florida's 37th Attorney General in 2011, according to her bio.
Jerry Falwell Jr.
Liberty University President Falwell gave Trump an endorsement in January; the Richmond Times-Dispatch reported that Falwell is a fan of repealing the "Johnson Amendment" so that tax-exempt organizations can support political candidates.
Rabbi Haskel Lookstein
When Ivanka Trump decided to convert to Orthodox Judaism, Rabbi Lookstein supported her decision and helped her through the process, according to The Telegraph.
Chris Cox
Cox is Executive Director of NRA Institute for Legislative Action; the NRA-ILA refers to him as the "NRA's chief lobbyist and principal political strategist."
Kentucky Sen. Mitch McConnell
Sen. McConnell is the U.S. Senate majority leader; according to his website, he is "Kentucky's longest-serving senator," winning his first Senate election in 1984.
Tiffany Trump
Trump's daughter Tiffany recently graduated from the University of Pennsylvania and is known as an Instagram influencer, The Washington Post reported.
New Jersey Governor Chris Christie
After Christie ended his campaign to become the 2016 Republican presidential nominee, he made the shortlist to be Trump's VP, according to TIME.
Donald J. Trump Jr.
Trump's son Donald is an Executive Vice President at The Trump Organization; his bio states that he "directs new project acquisition and development."
Wisconsin Governor Scott Walker
After Walker ended his campaign for the Republican nomination, he held off on endorsing Trump, Politico reported.
The country will be watching when these speakers converge on Cleveland.