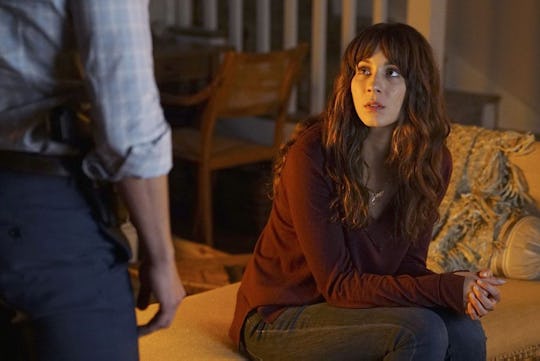 Eric McCandless/Freeform
Spencer's Father On 'PLL' May Not Be Who You Think
At the end of the first half of Season 7, Pretty Little Liars fans discovered that Mary Drake is actually Spencer's mom (or so she claims). Though many suspected this reveal, now fans are wondering who is Spencer's father on Pretty Little Liars? Up until the big reveal, it was assumed Peter Hastings was Spencer's dad since that's what Spencer believed, but if Veronica Hastings isn't her mom, doesn't that mean there's a chance Peter isn't her dad? Well, not necessarily.
Fans already know that Peter had an affair with Alison's mom, Jessica DiLaurentis, which produced Jason. It's possible Mr. Hastings had multiple affairs and also ending up sleeping with Mary, thereby leading to Spencer, which would mean all his kids have different moms, and only one of his kids is with his wife. (Also, why is Veronica still married to this man?)
However, maybe Peter slept with Mary thinking it was Jessica. That wouldn't make it any better since Peter still would've cheated, but at least it would've been under the guise of cheating with the same woman rather than two different women. That's more acceptable, right? Yeah, probably not. Alternatively, maybe Peter's not Spencer's dad at all. If Mary really is Spencer's mom, that could mean Charlotte's dad is also Spencer's dad. Unfortunately, fans don't know who that is either. So really, at this point, Spencer's dad could be anyone.
It could be Noel's dad, Steve Kahn, who's name was on the documents about Mary's child. If that's true, that would make Spencer and Noel half-siblings, which is super awkward since he just got beheaded in Season 7A. It could also be someone fans haven't met yet, maybe someone Mary hooked up with in Radley. Honestly, who knows? Thankfully, executive producer I. Marlene King promised fans all will be revealed before the series finale. "We will find out who Charlotte's father is and we will find out how Spencer came to be in her entire family dynamic," King told reporters last year.
That'll be an interesting discovery as well. Why did the Hastings take in Spencer if Peter isn't, in fact, her father? Did they even know Mary was Spencer's mom or did Jessica make up some story or lie so they'd adopt Spencer? Does Melissa know the truth or does she really think Spencer's her biological sister? There are so many questions that these last 10 episodes need to answer. Fans will just have to trust that everything will be revealed as promised, before the series comes to an end.
The final episodes of Pretty Little Liars begins airing on Tuesday, April 18 at 8 p.m. ET on Freeform.