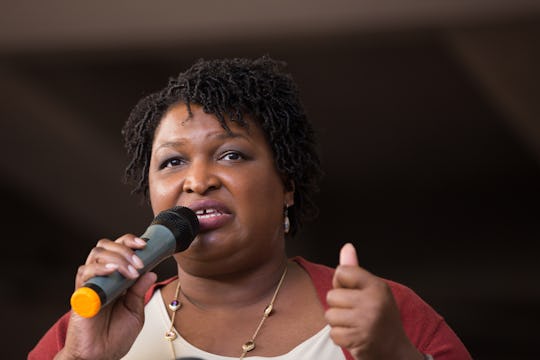 Jessica McGowan/Getty Images News/Getty Images
7 Facts To Know About Stacey Abrams Because She Could Make History On Nov. 6
With the midterm elections just days away, the country is gearing up for what could be some of the most crucial, history-making decisions in U.S. history. After the results of the 2016 election, many are realizing that it is not just voting in the primaries that counts. Rather, who you elect for positions beneath the president are just as important, if not even more so. That's why many people are likely wondering: Who is Stacey Abrams? The buzz around the senator is because she could be the first female black Governor in Georgia.
Abrams is a politician, lawyer, and novelist who served as minority leader of the Georgia House of Representatives from 2011 to 2017, according to her official website. Now, Abrams is running for Governor in Georgia, and her win would be historic for the state.
This is not the first time that Abrams' career was groundbreaking — or, rather, ceiling-shattering. According to her official website, Abrams was the first woman to lead a party in the Georgia General Assembly, and the first African American to lead in the House of Representatives. As noted on her site, "As House Minority Leader, she has worked strategically to recruit, train, elect, and defend Democrats to prevent a Republican supermajority in the House, and has worked across the aisle on behalf of all Georgians."
It's clear that her win would be huge for Democrats everywhere, so as you prepare to head to the polls, here are the seven most important facts to know about Abrams before Nov. 6.
1. If Elected, She Would Be The First Black Female Governor In Georgia
Abrams is leading a "progressive campaign," as Vox reported, competing against standing Gov. Brian Kemp. The news outlet also reported that, in 2018, an "unprecedented" number of women are running for major political positions.
2. She Advocates For Underprivileged Citizens
Abrams is a Democrat whose platform is based on her positions on affordable housing, health care, gun reform, reproductive rights and education, among other hot-button topics, as she explains on her website.
3. She's Done Important Work In The Georgia General Assembly & House Of Representatives
Prior to running for governor, Abrams amassed a pretty impressive track record while serving in the Georgia General Assembly and House of Representatives. As her team explains on her website:
During her tenure, she has stopped legislation to raise taxes on the poor and middle class and to roll back reproductive healthcare. She has brokered compromises that led to progress on transportation, infrastructure, and education. Most recently, she passed legislation to improve the welfare of grandparents and other kin raising children and secured increased funding to support these families.
4. She's Endorsed By Barack Obama
In a press release, Abrams' team announced that President Barack Obama publicly endorses Abrams, saying the following according to The Associated Press:
In a time when too many folks are focused simply on how to win an election, Stacey's somebody who cares about something more important: why we should. That's the kind of politics we should practice. That's why I'm proud to give Stacey Abrams my support.
5. Oprah Is Canvassing For Her
Among her other major endorsements, Oprah is not only a supporter, but has volunteered to go door-to-door asking citizens of Georgia to vote for Abrams, as The Washington Post reported.
6. She Published Award-Winning Novels Under A Pseudonym
Despite how busy she is, Abrams is not only a politician, but also a very successful author. NBC News reported that she has published eight romantic suspense novels under the name Selena Montgomery, and altogether has sold more than 100,000 copies of her books.
7. She's Asking Georgia To Make Some Big Changes
In a profile of Abrams written by The New York Times, the nominee argues that Georgia needs to make some big shifts socially, politically and fiscally... and she's going to spearhead that change.
Though her run is unprecedented, Abrams has said she is "not beholden" to the "all boys club" that she'd be entering into. Rather, Abrams is inspired, ready and hopeful to receive the chance to lead.