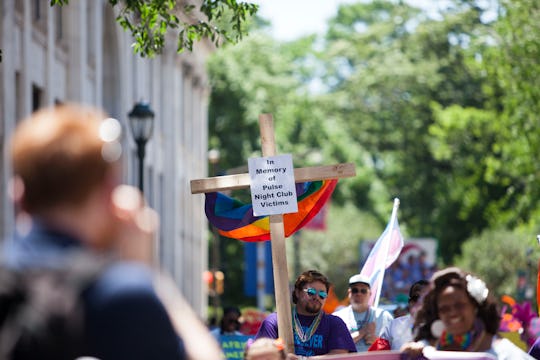 Jessica Kourkounis/Getty Images News/Getty Images
Who Is Stanley Almodovar III? The Orlando Terror Attack Victim Was Among The Deceased
Amid the chaos of Sunday afternoon, following a deadly terrorist attack in Orlando, Florida, officials released a list of four victim names, one of which belonged to Stanley Almodovar III. Almodovar was one of 50 people killed in the shooting, which took place in the early morning hours on Sunday at LGBT nightclub Pulse. At least 53 others were injured in the shooting. So far, police have released few details on Almodovar and the other three victims on the list.
(Update: The FBI has updated the death toll to 49 victims. The shooter was also killed.)
"On this very difficult day, we offer heartfelt condolences to today's victims and their families," the City of Orlando wrote in a statement on its official government site. "Our City is working tirelessly to get as much information out to the families so they can begin the grieving process. Please keep the following individuals in your thoughts and prayers."
In addition to Almodovar the other victims on the list included Edward Sotomayor Jr., Luis Omar Ocasio-Capo, and Juan Ramon Guerrero. According to CBS Boston, Almodovar was originally from Springfield, Massachusetts. A Facebook profile listed under his name and hometown identified him as a pharmacy technician at Avella Specialty Pharmacy in Lake Mary and Covance, a drug research facility.
Almodovar's profile included small details that gave insight to his personal life — his first kiss, photos of himself with friends, and a myriad of selfies ranging from silly to introspective. Within minutes of his name hitting headlines, Almodovar's profile feed was inundated with a slew of condolences and messages of grief from members of the public.
The attack in Orlando on Sunday has been declared the deadliest mass shooting in U.S. history, with scores killed and maimed in the attack. Authorities have stated that many of the bodies — including that of the shooter — are still inside the club itself. The remaining victims were subsequently taken to nearby medical facilities.
"I just came here to see the list [of victims], because the numbers are going crazy," Juan Pablo Rivera, brother of victim Barron Serrano, told The Orlando Sentinel. "First it was 20. Now it's 50 deaths. And you never know who died in there, and they don't give you that information."
At press time, Almodovar's family and friends had not yet released a statement.