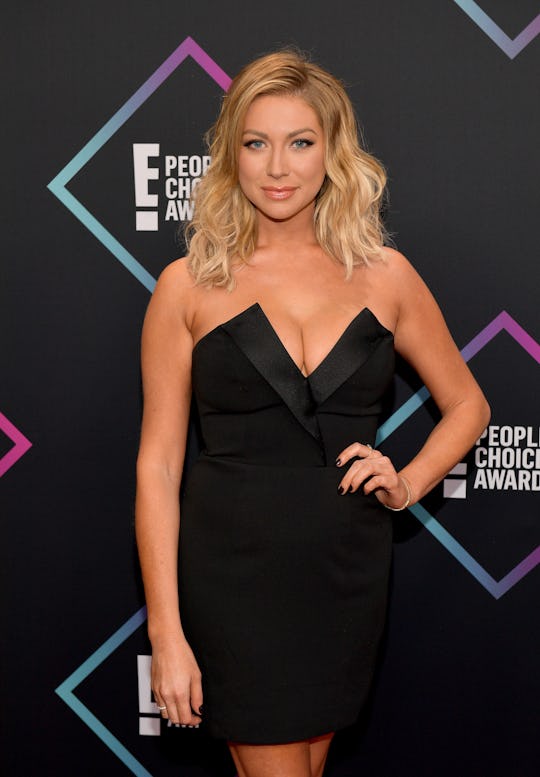 Matt Winkelmeyer/Getty Images Entertainment/Getty Images
Stassi's New Boyfriend Is Appearing On Season 7 Of 'Vanderpump Rules'
When Vanderpump Rules returns to Bravo for Season 7 on Dec. 3, there will be at least one new face in the crowd. Since last season, Stassi Schroeder has started seeing someone new, and he's going to be joining the show this year. And if the trailer is any indication, then he'll fit right in. But who is Stassi's new boyfriend on Vanderpump Rules?
Though you might not recognize him yet, you definitely caught a glimpse or two of Stassi's boyfriend Beau Clark in the Season 7 trailer. In one scene he allows Stassi to feed him a bite of food like a baby bird; in another he plumbs the depths of his soul to come up with the unspeakably poetic line, "It's like you dick-punched my heart." Evocative.
According to Refinery29, Beau works in commercial casting for Sanford Casting, a company whose website boasts that they "have worked with many top commercial, television and film directors, production companies, and advertising agencies." He was introduced to Stassi by Kristen Doute and Katie Maloney-Schwartz, though it didn't seem like the match-up would work at first. Both of them were reportedly a little wary of being set up until they finally met and hit it off.
And things seem to be getting pretty serious between them now. In an interview with Entertainment Tonight, Stassi said of Beau: "He's my best friend. I would legit die if something happened to him." She continued to gush about Beau and how happy their relationship made her, saying:
I can just be myself [with him]. Legitimately, I feel so comfortable and happy and I just have fun and he just, literally, just I love him for him and he loves me for me... I just want to be around him all the time. And I've really never had that, which is kinda sad, I guess. But I have it now.
At first, Beau was uncertain about taking part in Vanderpump Rules, though it's clear he's since come around. Stassi told ET that he initially refused because he has a "normal career," but she won him over eventually. "And now he loves it, and he's best friends with all my best friends, and it's not even that they're my best friends now, they're our best friends," she said.
Stassi even referred to Beau as "the one." And while they haven't picked out a ring or set a date, they are thinking about getting married. It seems the rest of the cast is on board with the couple too, with several co-stars praising Beau to Us Weekly. Jax Taylor (Stassi's ex, no less) told the publication that Beau was "amazing," and Brittany Cartwright made it clear that they all love him.
Lala Kent echoed that, adding, "I love Beau. I'm like, so rooting for them. He's such a great addition to our little family. I'm sure that that will be the next couple to put a ring on it, definitely."
Everyone seems so fond of Beau that it sounds like he'll be sticking around on Vanderpump Rules for a long time.
This first-time mom wants to have a home birth, but is she ready? Watch how a doula supports a military mom who's determined to have a home birth in Episode One of Romper's Doula Diaries, Season Two, below. Visit Bustle Digital Group's YouTube page for the next three episodes, launching Mondays in December.