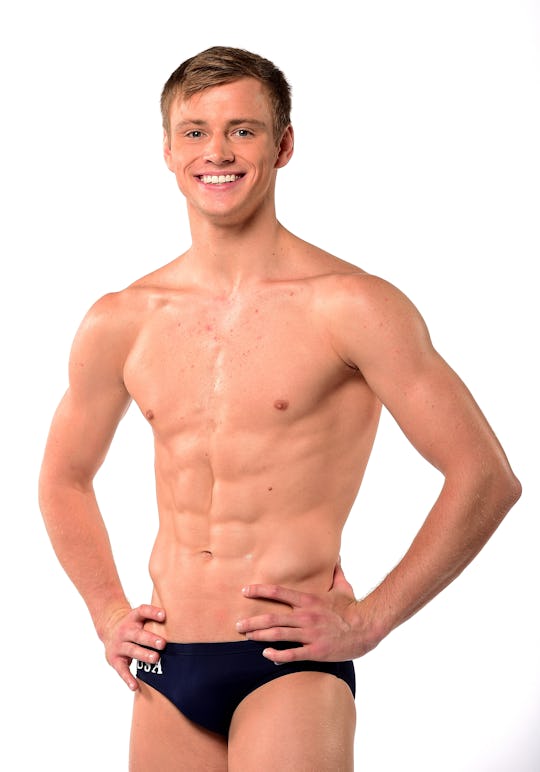 Harry How/Getty Images Sport/Getty Images
Who Is Steele Johnson Dating? He's Apparently Off The Market
Indiana native Steele Johnson is into listening to jazz music, playing Guitar Hero 3, photography, and watching scary movies — oh yeah, and the 20-year-old diver will make his Olympic debut in Rio. It would make quite the intriguing dating profile in the pre-Tinder era, but this Olympian is taken. Or at least that's what he indicated when he mentioned his girlfriend at a press conference before the Olympic trials in back in June. He may not be a household name yet, but after the world watches this emerging star compete in August, we'll want to know his major, his snack of choice, and, of course, who the heck Steele Johnson is dating.
A major diving-related head injury almost killed Johnson at age 12, when he struck his head on the concrete platform and his "scalp ripped in half," as The Indianapolis Star reported. He's only recently started opening up to his family about the significant memory loss the accident caused, and the Purdue University student revealed at the press conference that his girlfriend had started helping him overcome those challenges.
But who is she? Looks like her name is Hilary Nussbaum, and the two have been "Facebook official" since April 30.
According to her Facebook page, Nussbaum is a student at Illinois State University. On July 9, she tweeted "Boyfriend and I made THEE best and cutest fruit pizza for the first time ever," tagging Johnson and attaching a (cute) photo of the masterpiece. And a week before, he helped her out, just like she's been working on his memory issues with him:
But Johnson is still relatively new to the cake-baking boyfriend scene. In March 2013, he tweeted that his dad had been asking him why he hadn't yet had a girlfriend...
...And in August, Johnson uploaded the "Anti Girlfriend Tag" to his prolific YouTube channel, answering questions about what he'd like in a potential girlfriend. His criteria were both specific and vague: His ideal gift from his girlfriend would be "an unlimited supply of macaroni and cheese," he said, but it would be a deal breaker if she were too clingy. At the time, the only physical attribute he noticed in a potential girlfriend was teeth ("I think I'm really weird," he mused).
Shared passions were big for him, so unless there's been some changes in the past three years, I hope Hilary Nussbaum likes Pokémon:
One quality I look for is somebody who likes all the same stuff I do, but at the same time, they like different stuff. So, say I like hardcore music and they like hardcore music, I love Pokémon, they love Pokémon. But at the same time, we need to have some differences so the vlogs are still entertaining for you guys ... The deal maker is if it's just entertaining all the time, you know? Just being super exciting, having fun, playing Pokémon, battling Pokémon, listening to music, eating food. Eating food's a big one.
Now, Johnson's headed to Rio to compete in the 10-meter and the synchronized 10-meter, and he's really fond of Shanghai, China, because he won his first World Cup there, according to NBC. Clearly, for this film major, much has certainly changed in the three years since the filmed the "Anti Girlfriend Tag" — including the fact that his reality is a little more pro-girlfriend these days. His career highlights are extensive and impressive, but they're still evolving into something even more exciting, possibly just like this relatively new relationship.