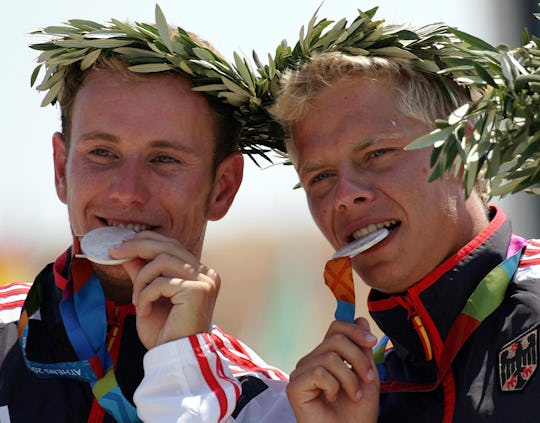 ARIS MESSINIS/AFP/Getty Images
Who Is Stefan Henze? The German Coach Died In A Rio Car Crash
Sad news came from Rio on Monday as Germany's Olympics team confirmed that Stefan Henze, a canoe slalom coach, died from injuries suffered during a car crash near the Olympic Village in Rio de Janeiro. Prior to coaching, Henze had been an Olympian himself, wining a silver medal in canoe slalom alongside teammate Markus Becker at the 2004 Athens Games. The tragic news came several days after Friday's accident, when a Rio taxi that Henze was sharing with sports scientist Christian Kaeding crashed into a concrete barrier, according to The Associated Press.
Kaeding suffered only minor injuries, while Henze underwent emergency surgery after sustaining trauma to the head. On Saturday, German Olympic team doctor Bernd Wolfahrt reported that Henze was in critical condition and had been transferred to a clinic specializing in neurosurgery, according to The Washington Post.
At the time, Wolfahrt emphasized the seriousness of Henze's injuries, telling reporters that "there have been no changes to the situation in the last twelve hours which means that he has very, very serious injuries, and his condition is life-threatening." Wolfahrt added that until Henze's family was able to arrive in Rio, he didn't want to speculate further on the 35-year-old's condition.
On Monday, The German Olympic Committee (DOSB) released a statement about Henze's passing, reporting that he was surrounded by family at the time of his death. "Words cannot describe what we feel in the team after this terrible loss," DOSB president Alfons Hormann said in a statement. According to BBC News, the DOSB plans to hold a memorial ceremony on Tuesday in the Olympic Village, and they have asked that German flags throughout the village be flown at half-mast.
News of Henze's tragic death comes amid recent reports of other unsettling incidents in Rio. As reported in The Guardian, an Olympics bus was attacked with either rocks or gunfire last week, leading to minor injuries for three of the people onboard. And on Sunday, four members of the U.S. Olympic Swimming Team were robbed at gunpoint by perpetrators posing as armed police officers, according to CNN.
The dual issues of traffic control and security had both been sources of concern leading up to the Games, according to Reuters. It's unfortunate that some of these fears have been realized.
A simple tribute to Henze was posted on the Twitter account for Germany's canoe slalom team. "We are deeply sad," it read. "Rest in peace, Stefan. You will stay in our hearts forever."