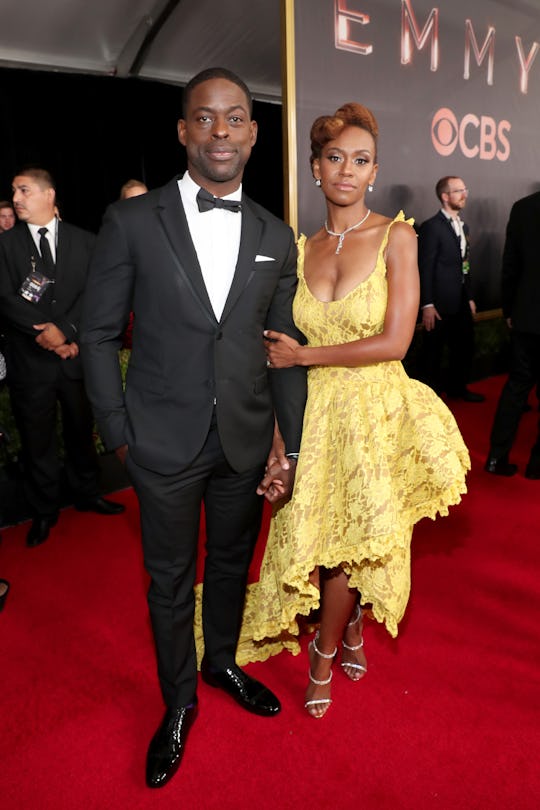 Rich Polk/Getty Images Entertainment/Getty Images
Sterling K. Brown & His Wife Are Ultimate #RelationshipGoals At The Emmys
By now, you all should be familiar with Sterling K. Brown, the stone-cold fox who stole everyone's hearts on The People V. O.J. Simpson and then again on This is Us. But who's the attractive woman standing next to him on the Emmys red carpet? Who is Sterling K. Brown's wife? Ryan Michelle Bathe may not be as famous as her husband (yet), but she is also an extremely successful actress working in television.
Host Giuliana Rancic's first interview on the 2017 Emmys red carpet was Sterling K. Brown standing with his wife, Ryan Michelle Bathe. This woman came dressed to slay in a bright yellow gown with one of those super trendy high/low skirts. The couple talked about their kids, especially their six-year-old son who is just starting first grade. Apparently he is an absolute ham in front of the camera with aspirations to be a scientist. This is not unlike myself at six years old (minus the whole wanting to be a scientist thing). In either case, these two were giving me major relationship goals during their interview for the way they interacted with each other and how supportive they are of one another. They even go to work together now, as they've acted together before.
This is the couple's second year at the awards ceremony. In 2016, Brown won the award for Best Supporting Actor in a Limited Series for his work on The People V. O.J. Simpson (which was well-deserved in my opinion). This year he is nominated for Best Drama Actor for This is Us — a show which, in the interest of full-disclosure, I do not watch. So I just learned that Bathe also acts in This is Us. She scored a recurring role in the show starring her husband as Yvette, a friend to Brown's TV parents Jack and Rebecca, played by Milo Ventimiglia and Mandy Moore.
But before showing up on This is Us, you may recognize Bathe from one of her several other acting roles, particularly on TV. Bathe has been in several TV series, including Army Wives, Girlfriends, Brothers and Sisters, and Boston Legal. She's also made one-off episode cameos in basically all of your favorite shows. This includes It's Always Sunny in Philadelphia, How I Met Your Mother, Private Practice, Bones, and even ER — though sadly in the post-Clooney era. Basically, she knows her way around a TV set. In fact, she was nominated for a Screen Actors Guild Award for her work on Boston Legal. She was allowed a plus one, but she took her manager instead of Brown because, as she stated to Entertainment Tonight, "...look, y'all, I was trying to get on another show, OK?" I approve of this call.
And in case you were wondering if Brown and Bathe are as perfect together in real life as they appear to be on the red carpet well — they are. It all starts with their absurdly kismet love story. Both of them were born in the same hospital in St. Louis, Missouri in the same year. Then they met 18 years later as undergrads at Stanford University where they lived in the same dorm room. They also went to grad school together and at this point have been together since 2004.
This is not even the best part of the story. On Live with Kelly, Brown revealed that he actually helped deliver the couple's first child, their son Andrew (the scientist) on the bathroom floor. "She comes crawling out of the bathroom after a while and she's like 'I think I'm crowning,' " Brown explained. "I'm asleep kinda, I'm like, 'Sweetheart, you can't be crowning. It's your first baby. Just try to relax.' I'm mansplaining what's happening to her body." But sure enough, Bathe was about to have the child right there, right then. With some help from the midwife dictating instructions over the phone, Brown was able to catch his son as his wife pushed. "Basically, she's on all fours, I look down, the baby's head is out," Brown said. "The midwife's like, [soothing voice] 'That's fantastic, just wait for Mommy to push again. Catch the baby so you can put him on Mommy's chest and they can start bonding.' "
And now it is official. These two are everything I want to be in life. Because while Brown helped deliver the baby, Bathe is the one who gave birth in her own home. Hero status.
Watch Romper's new video series, Romper's Doula Diaries:
Check out the entire Romper's Doula Diaries series and other videos on Facebook and the Bustle app across Apple TV, Roku, and Amazon Fire TV.