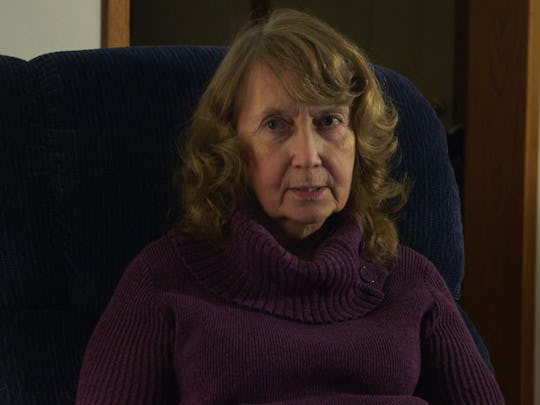 Netflix
Who Is Steven Avery's Girlfriend? The 'Making a Murderer' Subject Met Her Just After He Was Convicted
Since the release of the Netflix docuseries Making a Murderer, America has gotten to know the case of Steven Avery, possibly-wrongfully convicted murderer, pretty well. But what about the woman who appears at the end of the series? Who is Steven Avery's girlfriend? The story of how Sandra Greenman, a Wisconsin woman, became the girlfriend of a convict is a fascinating one.
While it's understandable for women to "stand by their man" if they're in a relationship with someone who goes to prison, particularly if they believe he's been wrongfully convicted, the choice to strike up a relationship with a convict you've never met has always struck me as peculiar. When asked to imagine what kind of woman would date a convicted murderer, my mind conjures up the likes of Afton Burton, aka "Star Manson," not someone's great-grandma.
But that's a rough description of who Sandra Greenman, Steve Avery's girlfriend is: a great-grandmother who's devoutly Christian, proud of her family, a big Packers fan, and prone to sharing those corny Minons memes. This is a woman who probably sends all of her nieces and nephews $5 for their birthdays; not someone who you'd expect to date an alleged killer.
In the series, Greenman explains that she initially contacted Avery by mail the day after he was convicted of murdering Teresa Halbach in 2007. Greenman believed that Avery was innocent, and she struck up a friendship to bring Avery comfort. She goes on to say that her husband at the time was suffering from both Alzheimer's and Parkinson's, and her friendship with Avery ended up being a comfort to her, as well. "Several months" after Greenman was widowed, she says in the series, she realized that there was something more to her relationship with Avery.
It sure is unconventional, but I get it. Greenman followed the news and saw what she believed to be a grave miscarriage of justice. Here was this innocent man, set to be caged up for the rest of his life, and she had to do something, right? So she sent him an encouraging note. They became friendly. She spent time helping him with appeals and defending him online. One thing leads to another, and seven years later, she's in a Netflix documentary. "Sandy's the most important person in my life," says Avery in Making a Murderer. He plans to marry her one day. And if that makes Sandy happy, then so be it. (And if he's guilty, then things get more complicated.)
Images: Netflix (2)