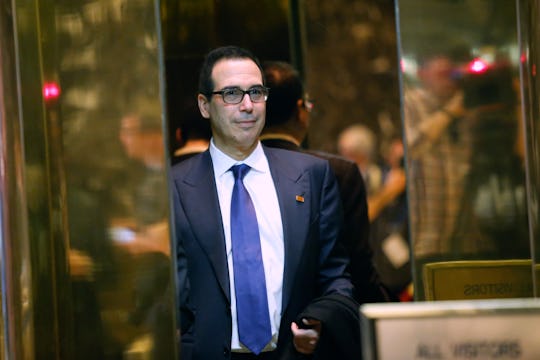 EDUARDO MUNOZ ALVAREZ/AFP/Getty Images
Who Is Steven Mnuchin? Trump's Expected Treasury Secretary Is A Former Wall Street Banker
The expected choice for President-elect Trump's treasury secretary has yet to be announced, but a transition source told NBC News that Trump will give Steven Mnuchin the job as soon as Wednesday. But who is Steven Mnuchin, and what sort of experience does he have? As the Trump campaign's finance chairman and a current member of Trump's transition team, Mnuchin has brought decades of experience in investment banking and hedge fund management to his various roles.
Many are noting that appointing Mnuchin subverts Trump's promise to "drain the swamp" in Washington, seeing that Mnuchin himself is an obvious insider. Though he "donated heavily to Democratic candidates before this cycle," CNBC reported, Mnuchin became Trump's finance chairman in May. Under Mnuchin's guidance, the campaign spent significantly less than Clinton's did. In August, Mnuchin foreshadowed the possible policies that a Trump presidency would emulate, echoing a few of the ideologies that Trump has preached:
We are very focused on lowering business taxes, making sure that U.S. corporations are competitive around the world, bringing back cash from all around the world that's sitting offshore, and I think the American public is focused on that.
Prior to working with Trump, Mnuchin spent 17 years at Goldman Sachs as an investment banker. After a couple of short business ventures, he created Dune Capital Management, his very own hedge fund. Over the past few years, Mnuchin has also bankrolled films, producing 34 movies including Suicide Squad, American Sniper, and The Lego Movie.
Though his experience in banking could be interpreted as needed economic experience, some aspects of Mnuchin's past are quite contentious. Most notably, according to Fortune, during the most recent financial crisis, Mnuchin profited off of the mayhem. Buying the "deeply discounted assets of [a] failed California mortgage lender," he turned a $1.55 billion investment into $3.4 billion over about five years. In 2011, however, the bank rebranded itself with the name "OneWest," and has since been criticized for "being too quick to foreclose on struggling homeowners," along with various allegations concerning racially discriminatory practices. Representatives for Mnuchin did not immediately respond to Romper's request for comment, and declined to comment on the allegations when contacted by Reuters reporters this week. But a spokesperson for CIT Group Inc, which purchased the failed mortgage lender assets from Mnuchin and his team, issued a statement, which noted,
CIT is committed to fair lending and works hard to meet the credit needs of all communities and neighborhoods we serve.
As treasury secretary, Mnuchin's work would include "shaping policies on taxes, financial regulation and the economy." Vox has emphasized that Mnuchin "has zero experience in politics or policy," noting that "his views on the issues are a total and complete mystery." Regardless, it's likely that Mnuchin's consistent support of Trump is what led to this offer; His ability to direct the Trump campaign's funds into an unstoppable force was paramount in winning Trump the election, and Trump's likely hoping to carry his "winning" strategy to the White House.