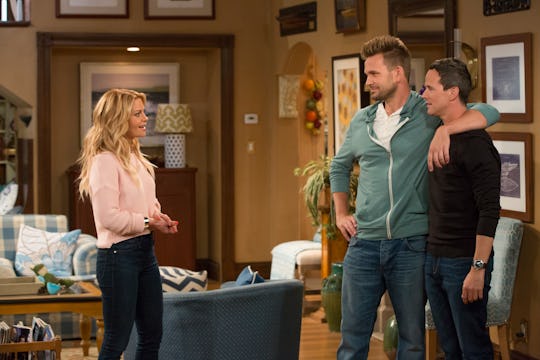 Michael Yarish/Netflix
Who Is Steve's New Girlfriend On 'Fuller House' Season 2? She's Practically D.J.'s Double
Everybody knows that D.J. and Steve from Full House belong together. That's not up for debate. But nevertheless, the two have had some stops and starts throughout the years, and it seems as though the second season of Fuller House will be no exception, mainly due to the fact that Steve is going to start dating someone else. So who is Steve's new girlfriend on Fuller House Season 2? The funny thing is, she's practically D.J.'s double. Now I'm not saying he's only with her because she resembles the real love of his life, but I'm not not saying it either.
According to TVLine, in Season 2 Steve will be dating a woman named C.J. (natch), who looks freakishly like his high school sweetheart, D.J. Apparently everything about C.J., from the way she speaks to the way she acts to the way she looks, will be almost a carbon copy of D.J. And, of course, these similarities are going to drive D.J. up a wall, because how couldn't they? And as for her other beau, Matt? Well, he's said to be dating a hot yoga instructor who walks on her hands to get from one room to another, which doesn't sound irritating at all (note the sarcasm). Perhaps both guys are just trying to make D.J. jealous and she'll once again have to choose between them. (Just pick Steve, D.J.!)
This is hardly the first time a sitcom has used this plot. Remember "Russ" from Friends who was basically just another Ross and was, in fact, played by David Schwimmer? Even Full House has done it before, like with Jesse's Cousin Stavros, who was played by John Stamos. But C.J. will not be played by Candace Cameron Bure, and the show will actually have another actress in the role. Who this D.J. lookalike is, however, remains a mystery. Netflix has not announced the name of the actress who will be playing her, and there are no photos to give us any clues.
While both guys will be apparently moving on with their love lives, something tells me that the drama is not yet over for any of the three. Of course, I kinda already played my hand here by saying how much I want D.J. to wind up with Steve, but Matt's a nice guy too, after all. We'll just have to binge watch all day to see how this all plays out.