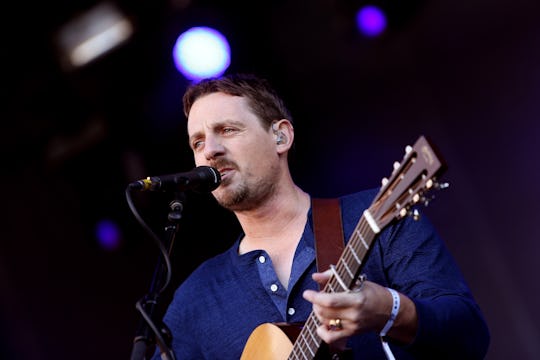 Mike Lawrie/Getty Images Entertainment/Getty Images
Who Is Sturgill Simpson? The Album of the Year Nominee Might Just Be The Next Big Star
Sturgill Simpson was just nominated for a Grammy for his traveler's album A Sailor's Guide to Earth that takes listeners around the world both musically and geographically from Detroit to London. Who is Sturgill Simpson? The Album of the Year nominee might just be the next big household name.
A Sailor's Guide to Earth is Simpson's first album on a major label, according to the OC Register. His sound is unquestionably rooted in country. Simpson gets compared to country music legends like Merle Haggard, but also has been able to put a modern, hipster, and timely spin on his classic, somewhat retro, sound.
"He's got a classic country voice but finds more fans in the NPR circle, with more flannel shirts in the audience than bucket hats," according to a review of his most recent tour from the OC Register. "He's just as likely to cover T. Rex and Nirvana as he is to pay homage to Willie Nelson of J.J. Cale."
Simpson does a hauntingly great cover of Nirvana's "In Bloom" on his Grammy-nominated album that really does completely re-imagine the grunge classic into a twangy ditty that sounds tailor-made for smoke-filled bars rather than the mosh pits of the past.
Sailor's Guide to Earth is part travelogue, part diary, written, according to Simpson's own site, from the point of view of a sailor writing letters to the wife and child he left behind at home. For the record, his site states, Simpson drew on his own experience in the Navy, which he joined right after high school. He continued a somewhat nomadic life on the road, playing bars and nightclubs, which suited Simpson just fine, until his son was born.
"I had to go out on the road for a year and a half, so I watched him grow up in photographs," Simpson said, according to his site. "I wrote the lyrics on the road and figured I'd put them to music when we were in the studio. Everything came together on the fly."
The result was an album now nominated for one of the top prizes in the music industry. Simpson said, according to his site:
I wanted it [Sailor's Guide] to be an exploration of all the different types of music that I love—a musical journey. I listen to a lot of Marvin Gaye, a lot of Bill Withers. I like the way George Harrison sings and tried to incorporate that. Some people will say I'm trying to run from country, but I'm never going to make anything other than a country record. As soon as I open my mouth, it's going to be a country song.
Simpson produced the freshly Grammy-nominated album himself. It's his third to date; the first was his 2013 debut High Top Mountain, followed up in 2014 with Metamodern Sounds in Country Music, Simpson's site states.
Simpson is still getting used to all of the attention he's starting to get from fans and the music industry, and he's definitely not interested in being anyone's poster boy for a modern country music revival, according to an interview he did with Rolling Stone:
I don't need that pressure. And what does that even really mean? It's not like Clear Channel is going to wake up tomorrow and be like, 'Oh, let's play this guy for a while and see what happens. No. There are no delusions of the tide shifting. I just try to do what I believe in and, more importantly, wake up in 20 or 30 years and still feel proud. These records may be the only semblance of who I actually was someday. To anybody that gives a shit.
He's his own man, making the music he loves, and getting critical acclaim and legions of fans along the way. Sturgill Simpson's star is on the rise.