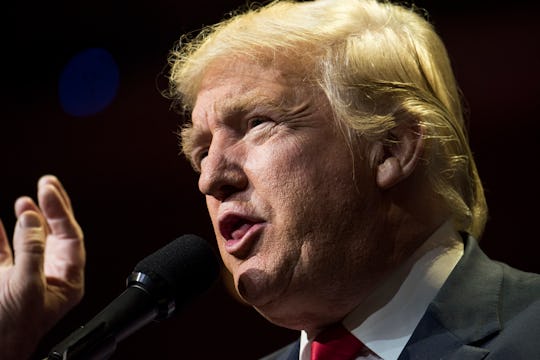 Ty Wright/Getty Images News/Getty Images
Who Is Summer Zervos? She Has Claimed To Be A Victim of Sexual Assault By Donald Trump
Several women have made claims that Donald Trump sexually assaulted them. On Friday, a woman who has accused Donald Trump of inappropriate sexual conduct, held a press conference to describe what happened to her, ABC News reported. Who is Summer Zervos? Her story about Trump is terrifying. Trump's campaign did not respond to Romper's request for comment.
Zervos owns her own restaurant — Sunny's Restaurant in Huntington Beach, California. She competed on Trump's reality show The Apprentice in 2006, and nothing sexual or inappropriate happened during her time on the show. But after the show ended, she and Trump came back into contact, and that is when the alleged incidents occurred.
Zervos was represented by attorney Gloria Allred during the conference on Friday.
"For Summer Zervos, The Access Hollywood tape hit a nerve," Allred said. "She had not intended to come forward prior to hearing Mr. Trump's words on that tape. But after hearing Mr. Trump on it she decided it was her duty to speak out."
Allred admonished the presidential candidate for his treatment of women, referring to his behavior toward Zervos. "Instead of a job, Ms. Zervos claims she got the Donald all over her, kissing her, touching her breasts, leading her into his bedroom," Allred said. "Donald, before you can become President of the United States, you must first learn to treat women with respect."
Zervos said that in 2007, she spoke with Trump to discuss job opportunities. She said that before their lunch meeting started, he kissed her "on the lips." And by the end of the lunch:
As I was about to leave, he again kissed me on the lips. This made me feel nervous and embarrassed this is not what I wanted or expected.
Zervos agreed to meet Trump a few days later at the Beverly Hills Hotel, where she was expecting to have dinner. Instead, she was taken to a bungalow, where she found Trump's clothes in a bedroom.
Zervos alleged that Trump kissed her and pulled her closer, even though she kept resisting. Then she said Trump placed a hand on her breast, and allegedly "thrust his genitals" toward her. She claimed he eventually tried to walk her into the bedroom.
"I said, 'Come on man, get real,'" Zervos said during the conference. She said Trump asked what she wanted to do. She said she responded that she just wanted to have dinner, and then he "transformed into being all about business."
Zervos told two people close to her about the incidents not long after they occurred. Zervos said she was subsequently offered job at the Trump Organization, but she was offered a much lower salary. She said that she told Trump that she felt she was being "penalized" for not having sex with him.
Zervos later sent Trump an email about how hurt she was at his alleged misconduct, but he did not reply, she said.
She was clearly in pain during the press conference, and read this statement:
I wanted a job within your organization. Instead, you treated me as an object to be hit upon. I was incredibly embarrassed by your sexual advances...Mr. Trump today I feel that you were interested in me only because you wanted to have a sexual relationship with me, and for no other reason...You do not have the right to treat women as sexual objects just because you are a star.
Zervos, who is a Republican, approached Allred "long before politics were involved," according to Allred.
Allred said that Zorvos is "not seeking either money or fame," and that she has no intention of filing a lawsuit.