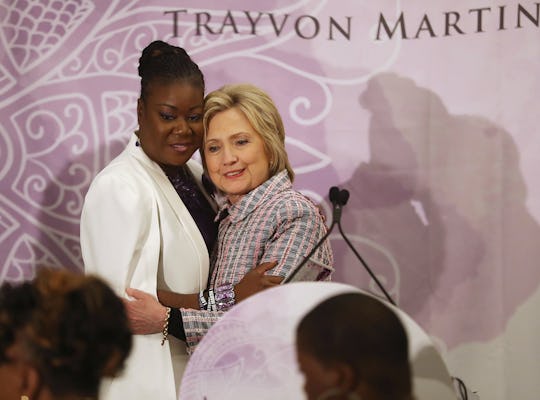 Joe Raedle/Getty Images News/Getty Images
Who Is Sybrina Fulton? Trayvon Martin's Mother Will Address The DNC
On the very first night of the Democratic National Convention, a woman named Sybrina Fulton will be addressing the crowd. While many probably indirectly know her story, few people really know her name. Many are asking: who is Sybrina Fulton, and why exactly is she speaking at the largest Democratic event of the year?
While Fulton's name isn't as widely known, her son's is: in February 2012, 17-year-old Trayvon Martin was fatally shot by a neighborhood watch captain, George Zimmerman, who was later found not guilty of second-degree murder. Since Martin's death, his mother Fulton has founded the Trayvon Martin Foundation and become a prominent advocate against gun violence.
Fulton will be joining the Mothers of the Movement at the Democratic National Convention next week, where she will join six other women who have lost their black sons to police-involved shootings. Fulton and several of the other women have expressed their support for Clinton in the past, appearing in a Clinton campaign video in March. In it, Fulton explained, "I can't help Trayvon at this time, but there are other Trayvon Martins that I can help."
Fulton and the Mothers of the Movement are advocating for gun violence prevention and police reform, and in an op-ed for CNN, Fulton explained why she was supporting Clinton, writing:
With so many of our children's lives on the line or taken, we simply can't afford to elect a Republican who refuses even to acknowledge the problem of senseless gun violence. The rising generation of our young people need a president who will stand up to inaction from Republicans and indifference from the National Rifle Association. I believe that person is Hillary Clinton.
I know Clinton is tough enough to wage this fight. I've seen her do it for years. As first lady, she advocated for the Brady Bill and convened meetings on school violence. As a senator, she voted to extend the assault weapons ban and against an immunity law that protects irresponsible gun makers and dealers from liability.
She went on to point out Clinton's more recent promises to end gun violence: She has pledged to eliminate background check loopholes, wants to allow victims to sue gun manufacturers, and intends to keep guns out of domestic abusers' hands, according to CNN.
"Not only am I missing my son, but too many other moms like me are missing their sons," Fulton wrote. "As their mothers, we must do more than just cry. And all of us must do more than speak out, protest and march. We must vote!"
Come the Democratic National Convention, Fulton will be urging all of the United States to do just that — to get out and support the candidate she believes will help end the cycle that allowed Trayvon Martin, Eric Garner, Sandra Bland, and countless others to die.