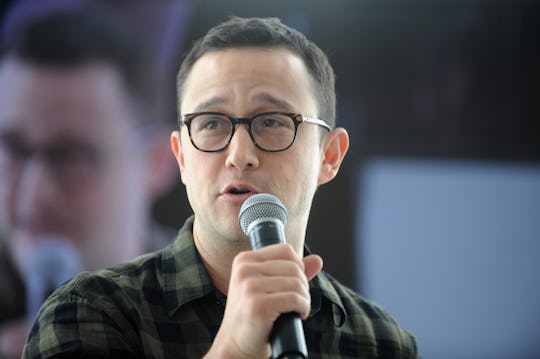 Brad Barket/Getty Images Entertainment/Getty Images
Joseph Gordon-Levitt's Wife Is A Robotics Badass
Maybe when you think of Joseph Gordon-Levitt you think of the sweet-faced kid from 10 Things I Hate About You who was madly in love with the girl next door. But oh, how times have changed. Now, Joseph Gordon-Levitt is married, and he and his wife are a happy family of three, soon to be four. But, who is Tasha McCauley? Joseph Gordon-Levitt's wife has an impressive resume of her own.
While both Gordon-Levitt and McCauley are notoriously quiet about their private lives, his representative confirmed to E! News this week that McCauley is indeed pregnant with the couple's second child. Speculation of McCauley's pregnancy arose when the couple was spotted out together in public on Wednesday and McCauley had a visible bump under her dress. The two married in 2014, and had their son in August of 2015, but have yet to publicly share any photos of their child, choosing to stay private about their personal lives. In an interview on Live with Kelly and Michael, Gordon-Levitt explained,
My son, he's just a baby, you know? He hasn't made the choice to be in the public eye, and that's a choice that I would like him to be able to make when he's older, when he can think about these kinds of things and make that decision for himself. And so, for now, I'm just a protective dad, and I want to protect his privacy.
The couple remains so private that an appearance at a charity event together sparked international headlines last year. However, there is some information out there about McCauley, a "VP of Business Development at GeoSim Systems," who also "Co-founded Fellow Robots," according to her Twitter bio.
As the Daily Mail reports, "Tasha has a bachelor's degree in robotics and an MBA in business education and research," and has made the choice to not be in the public eye as much as her husband is. In a 2013 interview with Howard Stern, Gordon-Levitt said, "I have a girlfriend but I tend not to really like to talk about it in public." He went on to explain, "She really doesn't want to be a part of it and you can imagine not wanting to have that kind of scrutiny."
HelloGiggles also reports that McCauley is fluent in "English, Spanish and Arabic," and is literally a "robot scientist." So, it's pretty safe to say that while Gordon-Levitt and McCauley may choose not to talk about their private lives too much, their son and future bundle of joy have some darn good DNA to rely on.
Congrats, you two!