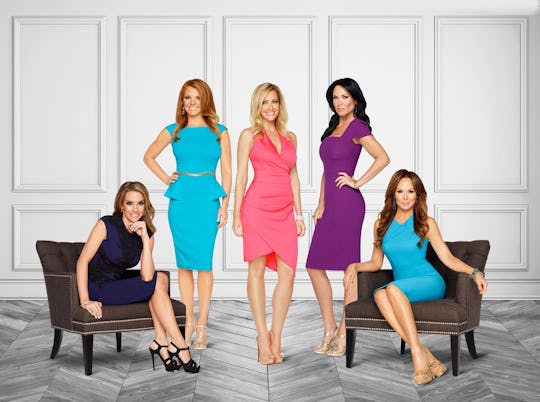 Michael Larsen/Bravo
Who Is Taylor On The 'Real Housewives Of Dallas'? He's A Reality TV Vet
On Monday's episode of the Real Housewives of Dallas, we got to see a few of the epic fights that the series has been promoting for some time now. LeeAnne Locken called Brandi Redmond a piece of trash, and said that Stephanie Hollman's charity world was going down the toilet. Brandi threatened to knock LeeAnne out, and Stephanie tearfully mumbled, "She's crazy," after LeeAnne had stormed out. Wine was thrown, loyalties were tested, threats were made. It was everything a good Real Housewives blowout should be, but the question everyone was asking at the end of the episode was not what's going to happen next, but who is Taylor, Marie's friend on Real Housewives of Dallas?
At Real Housewives of Dallas friend Marie Reyes' cocktail party, Taylor stuck out like a sore thumb. He looked so young I almost wondered why he was allowed to be sipping that champagne with everyone. It turns out, he is a close friend of Marie's, and the only guy allowed at ladies night. Part of his time on camera, he revealed that he gets regular botox injections, apparently in order to control his sweat, but that certainly wasn't the most exciting part. He quickly became part of a rumor-mill (the source, basically) when he started spreading rumors about something LeeAnne allegedly did, which also involved poop, a recurring theme on this season of the show.
As it turns out, Taylor is no stranger to reality TV. Before appearing on the Real Housewives of Dallas, Taylor Garrett starred in Logo's A List: Dallas. And if his popularity keeps up at this rate, he may show up at more Housewives events. In fact, if his social media is any indication, he shows up at all kinds of events, including Bravo premieres, and hangs out with celebs like Kris Jenner.
If you watched A List: Dallas, you may remember that Taylor was a Republican lobbyist, and has even written for the Huffington Post. He recently wrote an article defending gay Republicans, arguing that liberals who compare all Republicans to Rick Santorum are using the same kind of fanaticism as Santorum himself.
As for his day job, Taylor is the owner of Jack and Jill Pet Market, a pet boutique named after his own two beloved French bulldogs, Jack and Jill. The store carries some adorable puppy swag often modeled by his own two dogs.
So will Taylor become a Dallas Housewives regular? He is certainly on the fast track to steal the show — let's just hope he brings more than rumors.