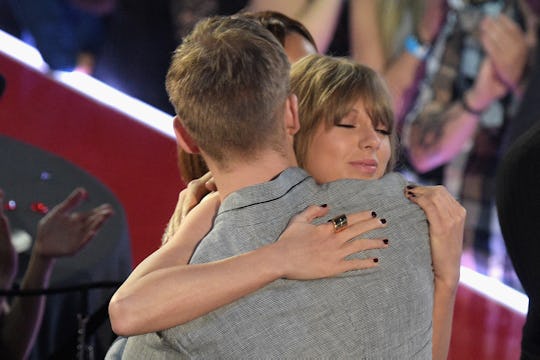 Jason Kempin/Getty Images Entertainment/Getty Images
Who Is Taylor Swift's New Single "Gorgeous" About?
Can you believe that it was only a few short months ago when we had no earthly idea when we would be blessed with new Taylor Swift music? And now, we're wondering who Swift's new single "Gorgeous" is about? My, how the times have changed. And I, for one, am here for it. Of course, Swift has maintained her conscious decision to stay (pretty far) away from the media, giving zero interviews or press access since announcing her new album, Reputation, back in August. Nevertheless, fans have taken to social media to plot theories about who and what Swift's new song could be about.
Pretty much as soon as Swift teased mere seconds of the song to her Instagram on Thursday, the questions came pouring in. And they aren't without merit. After all, Swift has built much of her reputation on being honest, vulnerable, and open with her songwriting. She doesn't hold back, and her lyrics are known to leave listeners exclaiming that they weren't, in fact, ready for it.
So, who, or what, is Swift's new single — "Gorgeous" — about? Well, there aren't a lot of clues, but that doesn't mean the list of possibilities are anything but extensive. After all, the Swiftie corner of the internet might just be the most analytical there is.
So technically, the only preview of the song we have is of a voice of a baby saying "gorgeous," and then some notes playing afterwards. Basically, the preview isn't going to give us any hints as to what the song is about. Enter: Swifties.
(As a self-proclaimed Swiftie I cannot claim to be neutral in the opinion/fact that Swifties are master sleuths, but I still offer you this article, as a thorough investigation of who this new song could be about).
So, without further ado, I present to you, exhibit A:
As you may or may not know, Swift loves her fans. Like, really loves her fans, almost like it's a love story. She's also pretty active on Tumblr, where Swifties have developed the term "Taylurking" to reference when Swift is online, liking their posts. So, it's no surprise that she has developed a special party for them, called Secret Sessions. Starting with 1989, Swift has held numerous listening parties for her fans at all of her homes, baking them cookies and letting them listen to her new album before it's released. So, now that Swift has begun hosting listening parties for Reputation, fans who have been dubbed as the lucky ones are giving their two cents about the new song.
And, according to their Tumblr posts, "Gorgeous," will be amazing. One fan even said that "the melody has been stuck in [her] head ever since [they] heard it." Another chimed in, saying the song "is something no one was expecting," and that "it'll blow your mind because of how amazing and cool it is."
Of course, none of these posts reveal what the song is actually about, but that's kind of to be expected. As the name implies, these are secret sessions. Which means that the fans are held to an honor code in not revealing any specific details about what happened at Swift's house.
So, with not much else to go on, we have to rely solely on speculation. And, speculation suggests that "Gorgeous" could be about one of many things: Swift's relationship with Calvin Harris, who she dated for just over one year; Swift's relationship with her new beau, Joe Alwyn, which is still relatively new; or, Swift's relationship with Tom Hiddleston, which lasted three months.
But, there's always the possibility that "Gorgeous" is more in the vain of "Clean" or "Welcome to New York," in that it has nothing to do with romance. Really, there's no way to know until the song drops at midnight Friday, and, inevitably, is stuck in everyone's heads all weekend.
Watch Romper's new video series, Romper's Doula Diaries:
Check out the entire Romper's Doula Diaries series and other videos on Facebook and the Bustle app across Apple TV, Roku, and Amazon Fire TV.