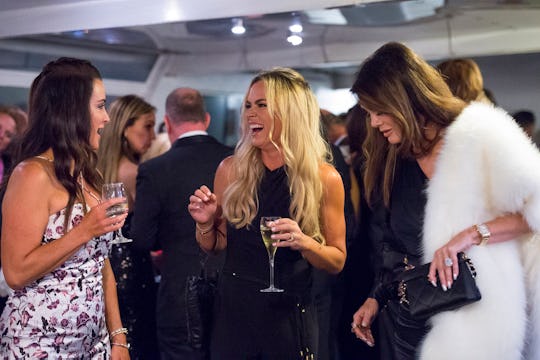 Nicole Weingart/Bravo
Here's Everything We Know About Teddi Jo Mellencamp's Mother
Hello fellow Real Housewives obsessives. By now I'm sure you're all aware that Teddi Mellencamp Arroyave's dad is John Mellencamp (in case the name wasn't enough). But who is Teddi Mellencamp's mother? The RHOBH star seems to have a wonderful mom, though she's a woman who has managed to stay pretty far out of the spotlight since her divorce from the rock and roll hall of famer. To that, I say, kudos to you, miss! Now let me learn absolutely everything I can about you because I am just that curious.
On the show, Teddi has talked often about growing up in Hilton Head, South Carolina, where you apparently cannot buy a house for less than a million dollars. That sounds like a lot but you can't do that in New York City either and I live here, so. Perspective. While Teddi has talked a bit about her dad (she's not really all that impressed with his fame), no one seems to have talked much about her mother, Victoria Granucci, or Vicky as she is known in the few articles I was able to dig up that mention her. She's not a show-business type of woman. She was never a supermodel and she didn't act in movies, unlike many of Mellencamp's other loves. She did, however, take part in a few of his music videos.
The basics of the couple's story go like this. Mellencamp married his high school sweetheart, Priscilla Esterline, who was pregnant at the time, when he was just 18 years old. Ten years later, the couple amicably divorced, and Mellencamp married Vicky Granucci, who shortly thereafter gave birth to Teddi Jo. Our gal was followed shortly by her sister, Justice Mellencamp. For a time the family lived fairly happily, though Mellencamp has admitted that he might have stepped out a time or two. In an interview with Entertainment Weekly from 1994 he said:
How many guys you know in rock bands that have been divorced? There's a reason for that. I don't care who you are or who you think you are, you're gonna fall into the pitfalls of that sooner or later. It's rock & roll. I mean, what other reason would a guy ever pick up a guitar as a teenager?
Maybe so, but it wasn't a recipe for a healthy marriage, which Mellencamp definitely seemed to have realized. The couple split in 1989. In the same article Mellencamp said:
Back then I had the best of both worlds. I'd come home to Indiana, had two beautiful kids, a nice wife, the whole bit. Out on the road I was still 19. And (Vicky) just got sick of it. Can't blame her. So I lost my kids. I thought, man, what have I done?
The article mentions that Mellencamp spent as much time as possible with his two daughters. And it's very clear that Teddi bears her dad no ill will.
As for Granucci herself? Well, she's stayed pretty well out of the spotlight. From her Facebook page, it looks like she still lives in Hilton Head and loves doting on her grandchildren just like any loving grandma. One outlet interviewed Granucci about her part in the music video for "Jack and Diane" — yes, she's the girl in video! When asked what she's up to now she responded, "Focusing on being a grandma. My daughters have wonderful children and have really given me a whole new outlook on life."
There's simply not much else out there to learn about her. So I'm going to go out on a limb and say she's enjoying living her private life. It can't be easy now that she's got an about-to-be-famous daughter and an extra-famous ex-husband.
Check out Romper's new video series, Romper's Doula Diaries:
Watch full episodes of Romper's Doula Diaries on Facebook Watch.