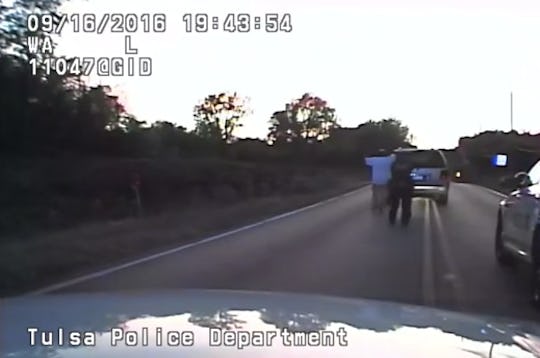 New York Daily News/YouTube
Who Is Terence Crutcher? He Was Shot By Police In A Controversial Incident
With the news cycle this weekend largely focused on Saturday night's stabbings in Minnesota and the bombings in New York and New Jersey, the death of Terence Crutcher has gone largely unnoticed. Everyone should know his name and that he was shot by police officers on Friday night. Crutcher was headed home after classes at Tulsa Community College when his car broke down on the road. Which is the worst start ever to a Friday night. But it got worse.
According to representatives for the family, the details get a little bit hazy from there, according to various statements, but Tulsa Police spokeswoman Jeanne MacKenzie said Friday night that as officers approached the vehicle, Crutcher reportedly started walking towards the officers from the side of the road.
According to Tulsa police, the officers asked Crutcher to put his arms up. Instead, he reached in to the car. One officer, Tyler Turnbough, "deployed a taser" and the other, Betty Shelby, shot and killed him. Both officers are white and Crutcher was African American.
Things got a bit delayed this weekend as police didn't confirm if they had found a gun in Crutcher's car or made a statement about what Crutcher was reaching for. But on Monday, Tulsa police released videos of the shooting, along with the following statement:
In an effort to collaborate and show transparency, Tulsa Police Chief Chuck Jordan has elected to show video and audio in reference to the officer involved shooting that occurred on September 16th, 2016 resulting in the death of Terrance Crutcher.
The video clearly shows Crutcher with his hands up as the officers approached him and his vehicle.
Officials also confirmed that Crutcher had no gun in his vehicle. Tulsa Police Sgt. Shane Tuell said on Monday afternoon that they had to examine the videos and speak with the family before making a statement. "We wanted to be able to have that intimate time with them, with their attorney, to see if they had any questions or concerns," Tuell added. "With something of this magnitude, we're trying an approach that we believe is necessary to further that transparency."
Police Chief Chuck Jordan said at a press conference on Monday, "I'm going to tell you right now, there was no gun on the suspect or in the suspect's vehicle." He added, "I want to assure our community and I want to assure all of you and people across the nation watching this: We will achieve justice."
Tulsa police placed Officer Shelby on paid leave after the shooting and are investigating whether criminal charges should be brought or if Crutcher's civil rights were violated. Meanwhile, protestors have been gathering outside of the Tulsa court house with signs reading, "This Stops Now," "Not Going, Keep Protesting," and chanting, "Hands up, don't shoot."
On social media, Twitter users and Black Lives Matter activists are calling for the arrest of Officer Shelby in light of the release of the videos. Unfortunately, as is common with these kinds of cases, it still might be some time before whatever "justice" Police Chief Jordan has promised comes to fruition.