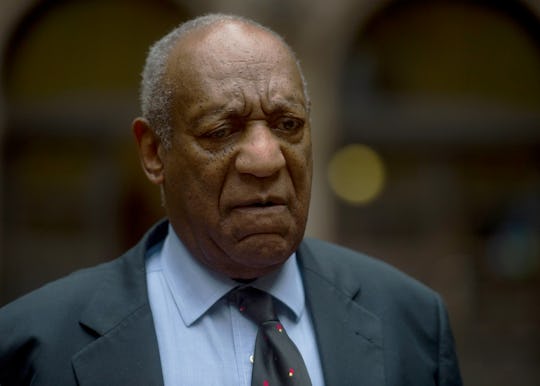 Pool/Getty Images News/Getty Images
Here's Who's Testifying Against Bill Cosby
Over the past few decades, there have been a handful of celebrity cases that have gripped the American public, like the O.J. Simpson murder trial in 1995 and the Phil Spector murder trial that took place from 2007 to 2009. Now that one of America's most well-known comedians and television stars is currently on trial for allegedly committing sexual assault, the public is once again preoccupied with the details of the case. So, who is testifying against Bill Cosby in the Andrea Constand case?
In response to the charges against him, Cosby's representative, Monique Pressley said to Romper in an email statement:
Mr. Cosby is not guilty of any crime and not one single fact presented by the Commonwealth rebuts this truth. Though the Court decided the government reached the low threshold required for today's preliminary hearing, we have no doubt this case ultimately will be resolved in Mr. Cosby's favor.
After 13 years of legal battles, on Thursday Cosby had his first day in a Pennsylvania court for the alleged sexual assault of Constand in 2004. For those not familiar with the case, Constand, who worked at Temple University at the time, alleges that Cosby gave her "three blue oblong tablets at his home and then proceeded to molest her while she was immobilized," according to Rolling Stone. Although a former district attorney decided not to bring charges against Cosby in 2005, 10 years later he was charged with three counts of aggravated indecent assault. The charges came after Constand and Cosby had already settled a civil lawsuit in November 2006, in which Cosby paid Constand an undisclosed sum. Constand ultimately decided to formally file charges against Cosby for sexual assault in January 2015, given the fact that the statute of limitations had not run out. If convicted of the charges against him, Cosby will be fined $25,000 per charge and he could face a maximum sentence of 10 years.
Now that the trial is finally underway, people are wondering who is set to testify against Cosby. Considering more than 50 women have come out against Cosby with allegations of sexual assault since Constand's accusations, it's reasonable to assume the prosecution has racked up a decent amount of witnesses to bolster Constand's claims. As of now, it looks like Constand will take the stand against her accused perpetrator. Although it's often extremely traumatic for a victim to testify against their alleged abuser, it's required if the case goes to trial. Since Constand's case against Cosby isn't being settled out-of-court, she'll have to take the stand and relive the difficult events of that day in 2004.
The positive news is, Constand is allegedly in a good place amid the courtroom drama. According to a ABC News, a friend of Constand's named Donna Motsinger said:
Andrea is not focused on the outcome. She is not emotional. She's the opposite. She is so centered and focused. She does yoga she meditates. She lives a beautiful life.
According to NBC News, Motsinger also said:
There's no trepidation, no fear. She is prepared for this moment. She used to play basketball and she prepared for those games like nobody else and that is what she has done here.
In addition to Constand's testimony, a victim who was allegedly drugged and assaulted by Cosby in 1996 will take the stand. According to Deadline, the victim was "the former assistant to Cosby's now-deceased William Morris agent Tom Illius." Despite prosecutors intent to have 13 alleged victims take the stand, Judge Steven O'Neill, who is presiding over the case, is only allowing the former assistant to testify due to the similarities between her story and Constand's. The prosecution will also have a psychologist and a pharmacologist take the stand to further cement their case.
Although it's unclear what the outcome of the trial will be, it's likely the testimonies against Cosby will be compelling. This is the first time the public will hear from Constand in court, and one can only expect her testimony will make headlines when she tells her story later this week.