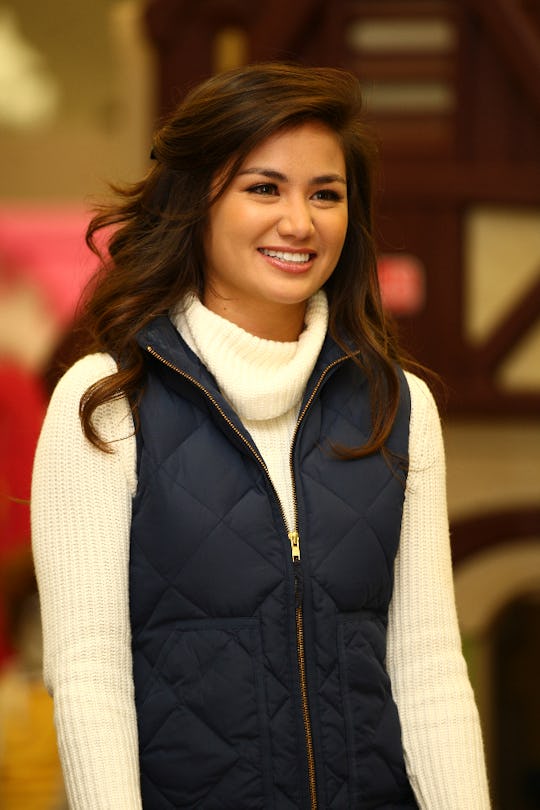 ABC/Scott Evans
Who Is The 2016 Bachelorette? 'Bachelor' Fans Aren't Too Pleased With The Rumored Pick
The selection of a new Bachelor or Bachelorette is a big deal to fans of Bachelor Nation. For months, they'll be watching this person go on crazy dates, fall in love, and do a whole lot of making out on national television. With Ben Higgins' season nearing the climactic proposal, it's time to start focusing on what lucky lady will get her pick of suitors in the next go-round. Though ABC hasn't yet officially announced their decision, Us Weekly reports that Caila Quinn is the 2016 Bachelorette — and for some reason, Bachelor fans aren't too happy about it.
Caila, she of the perfect hair and heartbreaking exit, made it to the top three in the current season of the ABC juggernaut. But Ben sent her packing after he found himself unable to tell her he loved her, a problem he certainly didn't have with remaining contestants JoJo and Lauren. Though Caila left sobbing, it seems that she'll have a more-than-adequate consolation prize. She was spotted filming something that looked an awful lot like an intro for The Bachelorette in her hometown of Hudson, Ohio, and sources confirmed to UsWeekly that she'd be the one doling out the magical love roses in Season 12.
But fans on Twitter have been less than pleased. A typical tweet responding to the news?
One fan even pulled out the ultimate damnation:
The problem? Some claim Caila's boring. "She's not perceived as having a lot of personality to carry the show," Claire Fallon, host of The Huffington Post's podcast for all things Bachelor, Here To Make Friends, told Romper on Sunday. "Caila isn't someone cool girls want to identify with, and her romantic history (dumping her real-life boyfriend for a chance to win Ben's heart on TV) doesn't make her seem genuine enough for the romantics to back her either." Fans on social media seem to be pulling more for contestants Becca, Amanda, or JoJo, who's still on the show but expected to lose to Lauren, she explained.
Still, Fallon thinks something more is at play here. "We've had plenty of boring, nothing Bachelors. I think we expect more from Bachelorettes — even as women, because all sorts of different women want to be able to identify with the lead... But I don't think that's a fair standard."
If Caila is indeed the next Bachelorette, she'll be making history as the first minority woman in that position. It's a big deal, especially for a show that's been accused of having problems with race and representation in the past. ABC has been teasing a minority Bachelorette for a while, with ABC Entertainment's president Paul Lee telling reporters back in January, "I'd be very surprised if [the Bachelorette] in the summer isn't diverse." Perhaps consciously, then, the show has played up Caila's Filipino background.
In all likelihood, the legions of upset fans will find plenty to love in the upcoming season, even if Caila turns out to be the center of it all. "I think she'll be fine," Fallon says. "The real drama of the show comes from the cast of contestants. Ben, for example, is super boring and not someone I'd pick to carry a show, but it's still been a fun season."
No matter who ends up being the Bachelorette, there's sure to be lots of fighting (and kissing!) in store, and thank goodness for that.