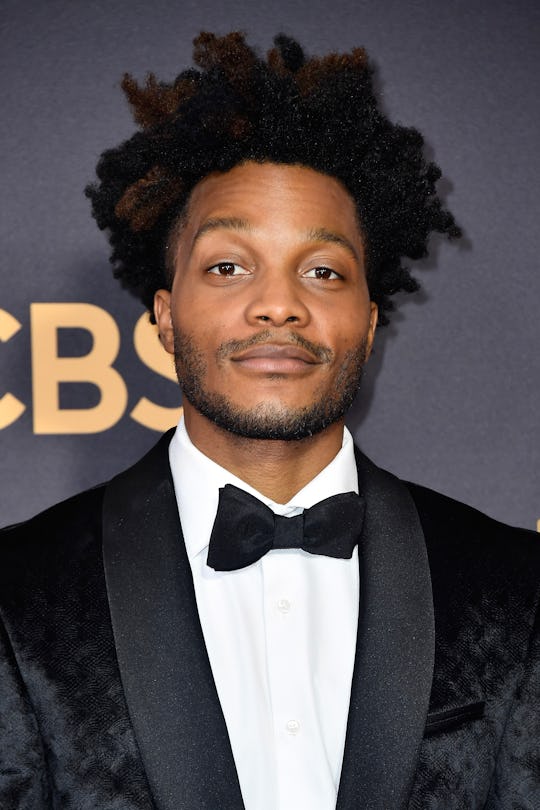 Frazer Harrison/Getty Images Entertainment/Getty Images
This Year's Emmys Announcer Is Really Dividing Twitter
There's a lot that goes into making the Emmys one of the biggest nights in entertainment, and a key component is the announcer. So who is the announcer at the 2017 Emmys? Jermaine Fowler is causing quite a stir during this year's broadcast.
Each year the Emmys is hosted on a different channel, and this year it fell to CBS to host TV's biggest award show. Wanting to shake things up this year, the network decided to make this year's announcer be more involved in the show and hired Fowler, who stars in the network's comedy Superior Donuts, to take on the role. Unlike past voiceover announcers, Fowler wasn't hidden away backstage but instead could be seen on the sidelines. Additionally — though he still had a script to follow — he was also given the wiggle room to ad lib.
CBS Entertainment EVP Jack Sussman explained the change to Deadline Saturday:
What most awards shows do is have the announcer locked in a closet reading from a script on cue... What we will do is have Jermaine be an active part of the show. He will be connected with what's happened on the telecast and what happens next. What we want to do is get a peek behind the curtain in a fun, engaging way.
While some viewers definitely enjoyed Fowler's announcing skills, others weren't totally pleased. Many wondered who the announcer even was, unfamiliar with the comedian, and others just wished he would go away or do less.
"Why is the #Emmys announcer screaming at me?" one person asked on Twitter, and many agreed, feeling the announcer was too excited and talked way too much. Still, the announcer did snag some fans.
From his excitement to seeing Insecure creator and star, Issa Rae, walk across the stage to just his clear enjoyment of everything about the Emmys, Fowler did add something to the show. Whether you loved it or hated it, he was certainly different.
It's unclear if whichever channel hosts the Emmys next year will continue the tradition or go back to the way things used to be. It will be interesting if this starts a new trend though. Imagine Fowler hosting all the big shows (Oscars, Tonys, and Grammys) from now on. Or perhaps another up-and-coming comedian could take over the gig, like King Bach, Jay Pharoah, Colin Jost, or so many others. It'll definitely be a game changer for future award shows, and something people would probably have to get used to.
Despite the announcer's polarizing personality, he didn't take away any attention from host Stephen Colbert, who truly owned the night. He started the show strong with his monologue that of course included some digs at President Trump. Colbert also brought out former White House Press Secretary Sean Spicer.
He then continued bringing the laughs with his Westworld skit, in which he stripped down and had a chat with Bernard Lowe (Jeffrey Wright) about what it means to be host. Get it? A host? Like what the robots on Westworld are called? If not, you just have to watch it. In case you haven't heard, the show is pretty good.
Anyway, Colbert then garnered even more friends when he interviewed "Emmy," played by drag queen and Emmy winner RuPaul. Emmy, of course, then spilled the tea about those other awards, like the Tony, and revealed whether or not she'd be leaving the show with Colbert again tonight (he was nominated for Outstanding Writing for a Variety Series).
Overall, the combo of Fowler and Colbert seemed to work for CBS. At the very least, it got a lot of people talking. And isn't that the best thing an awards show can do?
Watch Romper's new video series, Romper's Doula Diaries:
Check out the entire Romper's Doula Diaries series and other videos on Facebook and the Bustle app across Apple TV, Roku, and Amazon Fire TV.