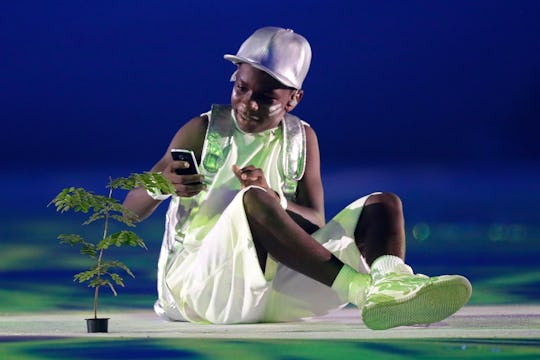 Jamie Squire/Getty Images Sport/Getty Images
Who Is The Boy In The Climate Change Rio Olympics Segment? He's Adorable & Important
During the long-awaited opening ceremony of the 2016 Rio Olympic games, viewers couldn't help but take notice of the cultural, historical and important messages being sent to viewers around the world. Whether it was Brazil refusing to hide the fact that slavery was a pivotal part of the country's history, or quintessential music and dance highlighted in a colorful and playful way, the opening ceremony was nothing if not honest. Which is why so many viewers were left asking themselves, "Who is the boy in the climate change Rio Olympics segment?" Because, yes, the powers that be didn't pull any punches.
While many other countries (not pointing any fingers, Russia) would rather hide the somewhat "dirty" parts of their history, Brazil seemed hellbent on highlighting it. So much of that history has culminated into what can only be described as undeniable climate change, which Brazil highlighted by way of an adorable little boy. Dawning a silver hat and white hoodie and shorts, the little boy posed as a plant trying to grow, symbolizing the importance of climate preservation and the undeniable fact that what we do now will impact our children and future generations to come. When you see an actual human, trying to grow but unable to because of what society has done, you cannot help but be moved to action (I would hope).
This important and pivotal message wasn't lost on viewers, as Twitter users employed 140 characters or less to express their thankfulness (and, sadly, how surprised they were) that a country would use such a massive platform to highlight an important issue. Here are a few Twitter responses to the climate change segment of the opening ceremonies:
Even BBC commentators were quick to point out that we "can't be naive," touching on the recent reports that "super bacteria" and "sewage waters" were found in Rio's ocean waters. With health warnings being released prior to the opening ceremony, it only makes sense that the country would take pause and highlight a very real, very undeniable problem that, unless tackled, can hurt future generations and a devastating rate. Although, to be frank, it was still somewhat of a surprise — albeit a pleasant one.