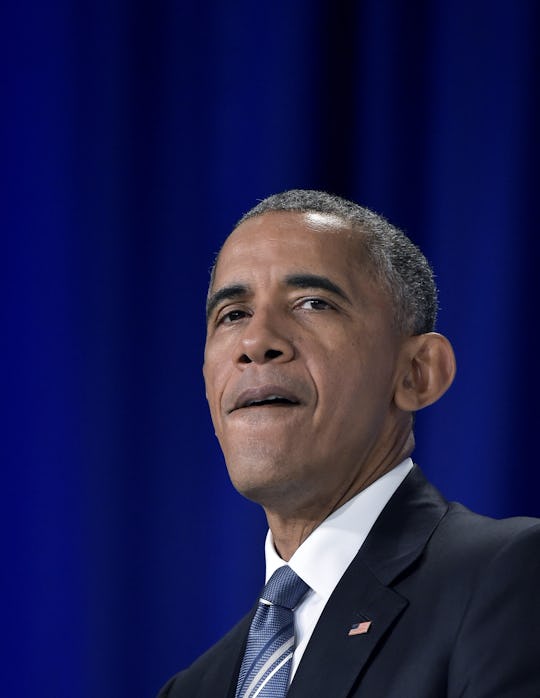 MANDEL NGAN/AFP/Getty Images
Who Is The Boy Who Asked Obama About His Hair? The Photo Is Adorably Historic
In her speech Monday night at the Democratic National Convention in Philadelphia, First Lady Michelle Obama talked about how important it is to have a president in the White House who is a role model for children. She told the story of a boy who asked President Barack Obama if their hair was the same. There's an iconic photo of the moment. So who is the boy who asked Obama about his hair? Jacob Philadelphia was the 5-year-old boy invited to pat the head of the most powerful man on the planet.
According to the New York Times, Jacob asked President Obama "I want to know if my hair is just like yours," he said in a voice so soft Obama had to ask him to repeat what he said.
Then, Obama replied, according to the Times, "Why don't you touch it and see for yourself?" And then he bowed his head to the young black boy so he could reach.
"Touch it dude!" Obama said. Jacob did and Obama asked, "So what do you think?"
"Yes, it does feel the same," the boy replied.
And just like that for the first time a little boy got to see someone with hair just like his in the Oval Office. The moment was captured by Pete Souza, the White House photographer, according to Vox.
Here's the quote from Mrs. Obama's DNC speech Monday night recounting the meeting between President Obama and little Jacob Philadelphia.
Let me tell you, Barack and I take that same approach to our jobs as president and first lady because we know that our words and actions matter, not just to our girls but the children across this country. Kids who say, "I saw you on TV," "I wrote the report on you for school." Kids like the little black boy who looked up at my husband, his eyes wide with hope, and he wondered, Is my hair like yours?
Here's the iconic picture of the meeting.
This isn't the first time Michelle Obama has talked about Jacob Philadelphia. In 2012, she gave a speech for the Congressional Black Caucus and explained why that photo is so important and is the only one the White House photographers don't ever move from the West Wing wall.
"The beauty is children walk through that house, and pass by that photo and they think nothing of it, because that's all they've ever known," Obama said. "They have grown up taking for granted that an African American can be President of the United States of America. Now isn't that part of the great American story? Isn't it?"
Here's that incredible 2012 speech.