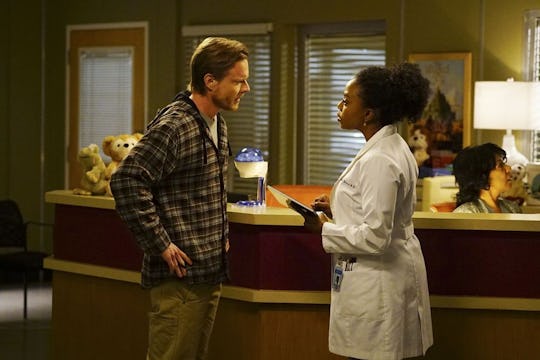 Richard Cartwright/ABC
This 'Grey's Guest Star Has Strong Ties To The Show
In the new episode of Grey's Anatomy, a young boy comes to the hospital to get help, but his parents refuse to let him get the surgery necessary to remove his tumor because they don't believe in "that kind of intervention." To some viewers, the dad may look familiar. So who is the boy's dad on Grey's Anatomy? The actor is Matthew Alan, who's dating Camilla Luddington, (aka Jo), in real life. They also just had their first child together, Hayden, last month.
Besides his totally cute relationship with Luddington, you may recognize Alan from his onscreen work as well. Most recently, he had a recurring role on the popular Netflix series 13 Reasons Why. He played Seth, the boyfriend of Justin's mom. Prior to that he also made appearances on the shows Lethal Weapon, Scorpion, Longmire, Veronica Mars, NCIS: New Orleans, The Night Shift, The Mentalist, Murder in the First, Modern Family, and Criminal Minds, according to IMDB. Additionally, he had recurring roles on Ghost Whisperer: The Other Side and Lost.
As far as the big screen goes, Alan has been in films like Trust Fund, Hidden in the Woods, Summer Snow, The Shifting, Absolute Fear, Red Tails, Walking the Halls, and 2084.
Alan's character on Grey's seems to cause a bit of trouble at Grey Sloan Memorial Hospital. Though he makes it abundantly clear that he doesn't want his child to get surgery — even though the doctors say it's necessary — it looks like they proceed with the surgery anyway, something they've been known to do in the past. The dad even threatens Alex, telling him he'll never practice medicine again, which is unfortunate since Alex literally just started working again. When is he going to catch a break?
It also seems like the dad interacts a lot with Stephanie as well, at least based on the official press images. The synopsis for the episode says, "Alex and Eliza are at odds over the treatment of a young patient, and Stephanie and Ben make decisions that could affect their careers." Maybe it's Stephanie and Ben that actually decide to operate on the kid and Alex just takes the fall for it, since he's the attendee.
Either way, the kid's parents are obviously not happy with whatever goes down. Hopefully, all the doctors can make it out of this without losing their jobs.
Grey's Anatomy airs on Thursdays at 8 p.m. ET on ABC.