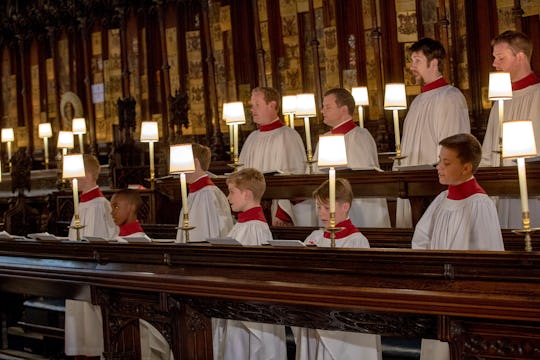 WPA Pool/Getty Images Entertainment/Getty Images
Who Is The Choir At The Royal Wedding? The Tradition Dates Back Centuries
American Anglophiles dragged themselves out of bed extra early on Saturday morning in order to witness Prince Harry marry Meghan Markle, and some were left with a few questions. British wedding traditions differ quite a bit from American weddings, and royal weddings, even more so. The average viewer might be wondering, who is the choir at the royal wedding? It's certainly quite an honor to be among the young boys chosen to serenade the couple who will sit just a stone's throw away from the throne of the United Kingdom. So how does one get there?
The Choir of St. George's Chapel is stocked with male students of St. George's School, located within the grounds of Windsor Castle. The school was originally founded in 1348, for the express purpose of educating the Chapel's choristers, but today, it's grown into a coed prep school with about 350 students. Potential choristers typically audition between the ages of 7 and 9, and the full choir is comprised of up to 23 boys who live on campus from Sunday mornings through Friday evenings. In addition to the regular curriculum, choristers take lessons in singing, music theory, and at least two instruments. They rehearse every morning, and perform nearly every day, as well.
Two of the boys chosen to sing at the royal wedding recently spoke to the Telegraph about the honor. Leo Mills, age 11, said he didn't even realize it was possible:
I knew that we sang for the Queen every Easter, and other occasions, but I didn't think we'd sing at any royal weddings. I'm super excited. It's a once in a lifetime opportunity. If it's handed to you, you take it. You don't shy away from it. We've been rehearsing often for the last three or four weeks.
Nine-year-old Nathan Mcharo said he felt "really excited" and "really lucky" about the opportunity, admitting that he had "a bit of nerves," an adorably British thing to say, "but that's all right because we're confident."
Boys who pass the choir audition typically spend 9 months to a year as probationary choristers, during which time they may still live at home, but boarding is mandatory for full choristers, since they rehearse so early in the mornings. Choristers are entitled to a discounted tuition rate of £3,469 per term, which translates to about $14,000 for the year. Two scholarships are awarded annually.
The choir is conducted by James Vivian, the Director of Music at St. George's Chapel, the Sun reported. Alongside the 23 students singing the soprano roles, 12 adults join the choir to fill out the alto, tenor, and bass. Kensington Palace announced that the service would include "a number of well-known hymns and choral works," when announcing that the choir would perform, and Vivian released the following statement:
The Choristers, Lay Clerks, Organists and I are very much looking forward to this exciting day and are pleased to be performing at the service music chosen by the couple. We are also looking forward to welcoming to St. George's musical colleagues from near and far who will be performing at this very special and joyful occasion.
In addition to the choir, several other musicians were announced, according to the Sun, including Britain's Got Talent star Sheku Kanneh-Mason on the cello, the State Trumpeters from the Band of the Household Cavalry, The Kingdom Choir, and an orchestra accompanied by Welsh soprano singer Elin Manahan Thomas Welsh. The orchestra, which also featured trumpeter David Blackadder and organist Luke Bond, was led by conductor Christopher Warren-Green. But as impressive as all those credentials are, there's something extra-special about a bunch of kids who've already dedicated their lives to their craft at such a young age. I wonder if they're for hire.