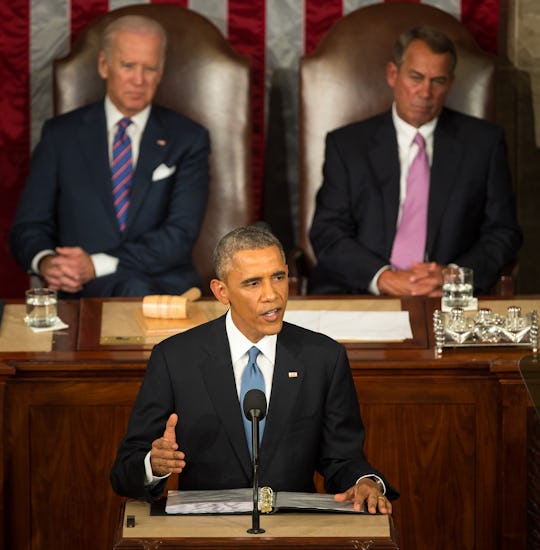 Flickr.com/NASA HQ
Who Is The Designated Survivor For The State Of The Union? It's A Tough Job
Everyone who is anyone in government will pack into Washington D.C. tonight for President Barack Obama's seventh and final State of the Union Address. This is, as you might imagine, a security nightmare. It's morbid to think about, but if not for the "designated survivor," everyone from the President down to his lowest successor could technically be wiped out in one fell swoop if something catastrophic happened at the SOTU address. So, who is the designated survivor at the SOTU tonight?
(Update: The White House announced that Homeland Security Secretary Jeh Johnson has been chosen as this year's "designated survivor.")
Every year a cabinet member is chosen to watch the SOTU from a secure and undisclosed location so that if the worst does come to pass he or she is ready to be immediately catapulted into the position of President. For security reasons that "designated survivor" is not usually announced until the State of the Union address has begun, and his or her whereabouts are not announced until the address is safely over.
It may not come as a surprise that the U.S. began enacting this worst-case-scenario contingency plan during the Cold War, at the height of our nation's fear of nuclear attack. To this day, the "designated survivor" is accompanied not only by the Secret Service, but also by a courier carrying a briefcase that contains U.S. nuclear codes. That may seem delightfully retro now, but after 9/11 the "designated survivor" position became much more serious as security risks to D.C. became much more conceivable.
Past "designated survivors" have included Transportation Secretary Anthony Foxx, Energy Secretary Ernest Moniz, Energy Secretary Steven Chu, Agriculture Secretary Tom Vilsack, Interior Secretary Ken Salazar, Housing and Urban Development Secretary Shaun Donovan, and Attorney General Eric Holder. Though Secretary of the Interior Sally Jewell is in the line of succession, she is a naturalized citizen and thus ineligible for the presidency.
The "designated survivor" receives training for his or her appointed position a few weeks before the State of the Union, including lessons on how to be president. That's one course I'd be interested in auditing (but wouldn't want to be tested on).
Images: NASA HQ/Flickr