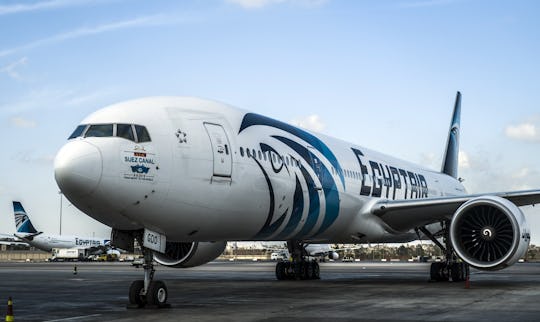 KHALED DESOUKI/AFP/Getty Images
Who Is The Egypt Air Hijacker? Authorities Don't Think It Was Terrorism
After multiple, conflicting news reports on the identity and motives surrounding the Tuesday hijacking of an Egypt Air flight headed from Alexandria, Egypt, to Cairo, the Cypriot foreign affairs ministry has released information on who the alleged Egypt Air hijacker is, according to CNN. Egypt Air authorities originally reported that a distraught man claiming to be strapped with explosives had taken over the flight carrying at least 81 people. Authorities later confirmed that the alleged hijacker was an Egyptian national named Seif El Din Mustafa. According to BBC News, Mustafa was arrested by authorities on Tuesday morning after lengthy negotiations leading to the release of all hostages held on board. All passengers and crew members aboard the flight have been released unharmed, according to BBC News.
Quoting officials from the Egyptian Civil Aviation Ministry, CNN reported that Flight 181 had been scheduled for a quick trip on Tuesday morning — from the coastal city of Alexandria southward to Egypt's capital of Cairo. However, pilot Omar El Gamal told the ministry that, at some point during the flight, a passenger claiming to be wearing a belt armed with explosives diverted the plane. The pilots were forced to head northward instead, eventually landing at Lanaca Airport in Cyprus.
Upon landing in Cyprus, everyone on board was released except the eight-member crew and four European nationals, BBC News reported. At that time, the alleged hijacker had not made any demands or offered any clues into his apparent intentions. At a later news conference, Egyptian authorities offered conflicting reports around alleged motives for the hijacking, BBC News reported. Egypt's ministry of foreign affairs said the hijacker first demanded the plane land in either Turkey or Cyprus, where he planned to seek foreign asylum. According to that same report, the man later threw a letter written to his ex-wife on the tarmac, which led authorities to believe that his motives might have been personal, rather than political.
BBC's Ruth Michaelson reported that foreign affairs officials later called the man "an idiot" driven by a domestic issue:
The crisis came to an end quickly and without harm to anyone aboard the plane. In a tweet, Cyprus government spokesman Nikos Christodoulides confirmed that all passengers and crew emerged unharmed from Egypt Air flight 181. Mustafa was taken into police custody on Tuesday without incident and officials said that the man is unstable but did not actually possess any explosives, CNN reported.