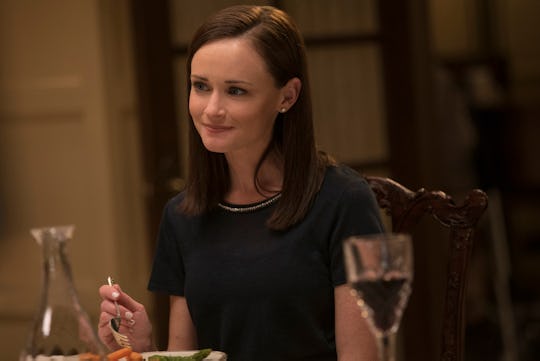 Who Is The Father Of Rory's Baby? The 'Gilmore Girls' Revival Ended In A Cliffhanger
(Warning: This post contains spoilers from the entire Gilmore Girls: A Year in the Life series. Do not read this unless you want to be spoiled.) I always thought about what those four magic words that were always teased by Gilmore Girls creator Amy Sherman-Palladino would be. Personally, I thought they'd be "Another cup of coffee?" — you know, something true to the series that didn't throw everything I know off track. But, alas, here I am, taking a track I didn't know even existed. And, judging by the fact that you're reading this, you, too, are probably wondering what just happened and who is the father of Rory's baby on Gilmore Girls?
OK, first, let's do some meditation or something that Luke would probably very much hate. The cliffhanger absolutely caught people off-guard, along with making many fans wonder what the future of the show will be, and I have to say I'm still processing it. While processing, though, I still have to ask the question: who is the father of the baby? Obviously, based on the series, there's an obvious answer: Logan. Logan and Rory were sleeping together throughout the entire revival — don't get me started — so it would make sense that he would be the father of her future baby. But, that doesn't mean he's the only choice, does it?
By the way things ended for the couple — if you can call them that — you have to wonder just what is in store for their future (if you can call it that). Let's say Logan is the father of the baby (other viable options: Paul/Pete and the random Wookie), he's planning on getting married to Odette, and spending his life with her. He said that to Rory in the Inn. Now, that could very well change, it really could, but something tells me that that's not Rory's plan.
Her meeting with her father is incredibly telling of how she plans on moving forward. She knows what it is like to be raised by a single mom — first hand — and now she has the insight from the other side of the story... the father. Does it matter who the father of her baby is? I don't think so. I think that we will see another strong Gilmore woman raising a child, possibly without the help of a father. And as we've seen, that works out pretty damn well.