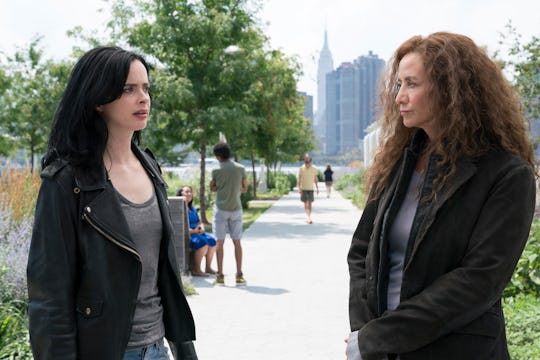 David Giesbrecht/Netflix
This 'Jessica Jones' Character Will Send Chills Up Your Spine
Warning: this post contains spoilers from Season 2 Episode 4. As a private investigator, Jessica Jones is pretty good at solving mysteries, but the mystery of her past has only led her to more questions. While looking into IGH (the organization that supposedly gave her her powers), she's also found a mysterious woman who's now on a killing rampage. But who is the female villain on Jessica Jones? You may recognize her.
Oscar nominee Janet McTeer takes on the intriguing figure, and she plays her well, which isn't surprising since McTeer is a talented actress. Besides having two Oscar nominations under her belt, she's also a Golden Globe winner and Emmy nominee. She's been acting for decades, beginning in the '80s and has been in notable films like Tumblrweeds, Albert Nobbs, and Me Before You. She's also been on a number of TV series, including Damages, The White Queen, The Honourable Woman, and Battle Creek.
But while there's a lot known about McTeer herself, the same can't be said about her character on Jessica Jones. She doesn't even have a name yet. At first, Jessica and Trish thought she might be Inez Green, a homeless woman whose medical bills were paid for by IGH, just like Jess. But when they found her, it turned out Inez was actually a nurse who'd been attacked by the mystery woman.
So now all Jess and Trish know so far about the mystery woman is that she's stronger than Jess and she's wearing a wig made by a wig shop owner named Sally. However, I think we can probably assume she's the one who killed Will Simpson, based on the high jump she made after she ran away from Jessica. That looked pretty similar to the jump Simpson's killer made after his murder. From there it's not a huge leap (see what I did there?) to assume this woman also killed Whizzer and Dr. Kozlov as well. This seems even more likely based on what happened at the end of Episode 4.
While Jess and Trish were getting answers from Inez, the mystery woman ended up killing someone else. Pryce made the unfortunate mistake of sending his friend, Nick, to Jessica's apartment to steal whatever projects she was working on. Poor Nick didn't even see the mystery woman coming when she attacked him from behind and threw him into his truck. Moments later, Nick was dead and Pryce had called the cops, which was bad news for Jessica, because of course the cops automatically assumed she was responsible. Now the mystery woman is still on the loose, and it'll be even harder for Jessica to find answers.
Hopefully, since Trish and Inez were both with Jessica during the time of the murder, Jessica will be able to get out of this one pretty easily. Plus, with traffic cameras everywhere these days it shouldn't be hard for someone to prove that Jess didn't do this.
Still, once she's out the cops will most likely be keeping an eye her, which will make tracking down the real killer that much more difficult. If only the police could see that Jess is actually just doing her best to do the right thing and get answers about who made her the way she is. Alas, if that was the case things would be too easy and this show would be boring. Plus, Jess is great at what she does and by the end of the season she'll probably win in the end. Hopefully.
Check out Romper's new video series, Romper's Doula Diaries:
Watch full episodes of Romper's Doula Diaries on Facebook Watch.