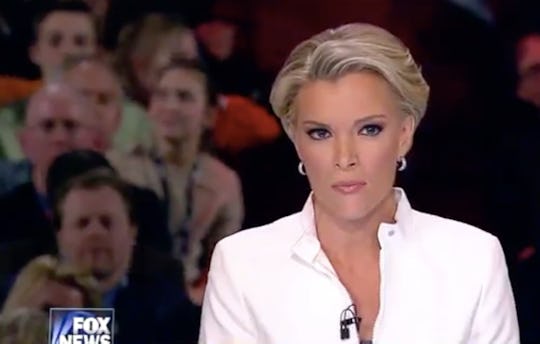 Who Is The Girl Sitting Behind Megyn Kelly At The GOP Debate? She's Definitely Stealing The Show
Talk about a scene-stealer. At Thursday's GOP debate, viewers at home weren't so focused on the chaotic scene unfolding on the Fox News stage as they were on what was happening behind the scenes — more specifically, what was going on behind the moderators. So who is the girl sitting behind moderator Megyn Kelly?
Between pulling hilarious faces and dabbing, of all things, the tween and her peers, who were all situated in the coveted front seats of Detroit's Fox Theater, easily and quickly stole attention from viewers at home and in the live audience alike. Needless to say, everyone seemed to be entertained.
"The best thing about the GOP debate is watching people dab in the crowd," joked one Twitter user. "She did not just dab at a Presidential debate..." added another at-home viewer, incredulously.
No one was really sure who the random teen was, but it's a safe bet she's either the family member of an elected official, a state committee member, or a grassroots activist, since, according to the The Detroit News, only 50 of the 400 tickets allocated to the Republican Party for the evening were given to the public.
Considering that the teen's mom, dad, uncle, brother, grandmother... or whomever else might be a politician in her family was probably gifted those tickets by the Republican Party itself, continually pulling silly faces and taking attention away from the debate — the presidential debate — probably wasn't the best idea. If nothing else, it'll probably earn her a stern talking-to at the end of the evening, and no television for a month. (Who am I kidding? If that's the case, she can count herself lucky, since she won't have to watch Donald Trump with the rest of us.)
"Dabbing Girl" (can I call her that?) wasn't the only one drawing attention away from the furious battle on the Fox News debate stage either; Just behind moderator Bret Baier were a handful of other rowdy crowd members, this time seemingly grown men:
As with any viral moment or trend, not everyone was thrilled with the silly antics. "I don't care how old you are," wrote one upset Twitter user. "If you #dab at the Presidential debate, you need to hit the reset button on life." Complained another user, "What's making me most mad about the #GOPDebate? Not the people on stage. It's THE DAMN PEOPLE DABBING IN THE BACKGROUND. #PleaseStopTheDab."
Alas, according to one debate viewer, by the end of the evening, the dabbing had subsided and the girl removed, either from the shot or from the room entirely. Farewell, Dabbing Girl. We'll remember you fondly as the most interesting part of the entire 2016 election. (Sorry, not sorry, Trump.)