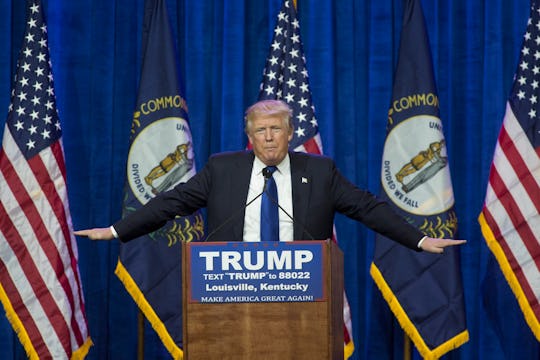 Aaron P. Bernstein/Getty Images News/Getty Images
Who Is The GOP Super Tuesday Winner? Donald Trump Practically Walked Away With The Victory
Well, it was an exciting Super Tuesday, filled with speechifying, cheap shots, and Chris Christie looking like he was being held hostage onstage behind Donald Trump. Though the field of Republican nominees is still remarkably large, and no one seems to be dropping out yet, one thing is clear. By a wide margin, Donald Trump was the GOP Super Tuesday winner.
Donald Trump came on strong right out of the gate. He picked up Georgia in a landslide, and held off Florida Sen. Marco Rubio in Virginia, although Rubio put up a fight. Arkansas, Alabama, Tennessee, and Massachusetts also fell in love with Trump's "Make America Great Again" message, voting for him by wide margins. In Massachussetts, for example, he pulled 49 percent of the vote to runner-up Rubio's 18 percent, with 87 percent of precincts reporting.
However, it wasn't a total Trump sweep. Texas Sen. Ted Cruz managed a victory in his home state, as well as its neighbor, Oklahoma, while Rubio captured Minnesota.
In a way, the fact that Trump didn't completely demolish his competition is good news for his campaign moving forward. The bits of success the other candidates can claim, like Cruz's wins in Texas and Oklahoma, and John Kasich's narrow loss to Trump in Vermont, will likely keep them in the race longer, dividing their supporters and perhaps clearing a path for Trump right to the nomination.
After spending the past few days insulting "lightweight" fellow Republicans, Trump turned his attention to Democratic Super Tuesday winner Hillary Clinton, saying in his victory speech:
She wants to make America whole again... I'm trying to make America great again... make America great again is going to be so much better than make America whole again.
Though the primary isn't over yet, we're a lot closer to a nominee. And then, we can all get ready for the real fight, the general election.