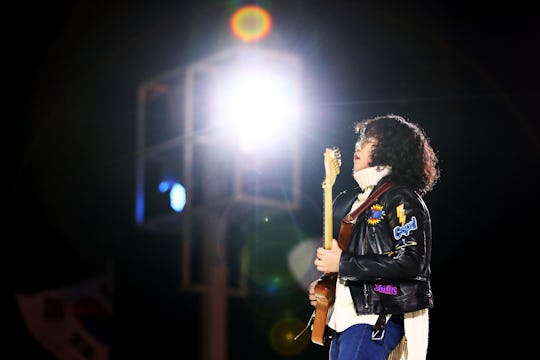 Dean Mouhtaropoulos/Getty Images Sport/Getty Images
Who Is The Guitarist At The Closing Ceremony? The 13-Year-Old Is Seriously Talented
For those tuning into the closing ceremony for the 2018 PyeongChang Winter Olympics: First of all, kudos to you for getting up so early on a Sunday morning to watch the event live. (I hope you had some coffee and that you treat yourself to a nap this afternoon.) Secondly, I'm willing to be that you're still reeling from the epic first performance of the ceremony. Because that guitar player had some serious skills. In fact, viewers may find themselves wondering about the phenomenal — and young — performer who knocked everyone's socks off. So who is the guitarist at the closing ceremony? Because Twitter instantly fell in love with the performer.
The closing ceremony began at 6 a.m. (ET) on Sunday, and the event's organizers wasted no time in wowing us with some serious talent. As BuzzFeed reported, Yang Tae Hwan is his name — and guitar shredding is the talented teen's Olympic game. The 13-year-old guitar player is from Hwacheon in South Korea, according to the publication. And Twitter users were quick to chime in with their praises for the young artist. Many were inspired by his fashion sense. "My new aesthetic is 100% going to be this guitar player at the closing ceremony," one Twitter user wrote. Another person tweeted, "Just found out that the #기타리스트 is Yang Tae Hwan, aged 13. He is my hero and my aesthetic."
Honestly, I'm digging Yang Tae Hwan's aesthetic, too. I mean, just look at this kid. The hair. The jacket. It's perfection. (I wonder how long it will take for people to find knock-off versions of their own?)
Other Twitter users were simply blown away by his amazing talent. "Ok the guitarist at age 13 plays like he has been playing his whole life. I'm blown away and in awe," another Twitter user wrote. "My jaw was dropped the entire time. Incredible. Someone give him his own band that talent is too special to hide. Wow."
Yet another person tweeted, "If aliens come to Earth tomorrow and want proof of our intelligence, let's bypass the camera phones and sh*t and just show them that 13-year-old guitarist. I mean, f*ck."
In case you missed the live performance — during which Yang Tae Hwan played "Winter" from classic composer Vivaldi's The Four Seasons — the visual aspects were (nearly) as mind-blowing as the musical talent. Dressed in light-up suits, dancers were suspended with bungee cords while flipping and twirling in different acrobatic moves. So basically, the visuals of the performance perfectly aligned with the out-of-this world guitar player.
Here's a taste of this young guitar player's skills back in 2015 — at age 10, mind you — if you didn't catch the live show. Just look at those fingers flying! Just how?
And here's a more recent video uploaded to his YouTube channel. Man, I was proud when I could play a few chords on the ukulele. This kid puts professional musicians twice his age to shame.
According to Elise Hu, Asia correspondent for NPR News, Yang Tae Hwan was first discovered on the TV talent show, "Star King."
If you're bummed that you missed Yang Tae Hwan live, rest assured; you'll still have another chance to catch Yang Tae Hwan on the primetime showing of the opening ceremonies. Catch the entire event at 8 p.m. (ET) on NBC. Whether it's the first time you see him play or the second, you won't regret tuning in.
Seriously, I can't get over the fact that this kid is that good — and he's only 13 years old! I mean, did he come out of the womb holding a guitar and shredding in the delivery room? How do prodigies of this caliber happen? Whatever explains Yang Tae Hwan's skills, I'm just thankful someone thought to hand him a guitar. Because clearly, this is what he was born to do.