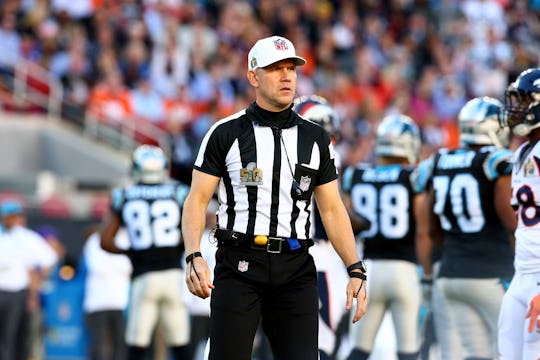 Ronald Martinez/Getty
Who Is The Hot Super Bowl Ref? Clete Blakeman Is Getting Twitter Excited
When it comes to swoon-worthy Super Bowl stars, that title usually goes to one of the many players on the field. But when it came to the match up between the Denver Broncos and Carolina Panthers on Feb. 7, fans couldn't take their eyes off the man who called all the shots. As people watched the Super Bowl, be it in San Fransisco or from home, many wondered who is that hot Super Bowl ref?
Yes, the man who is so perfect rocking the pinstripes all throwing flags on the field has a name. He is none other than Clete Blakeman. Oh, I'm sorry. You don't know who Clete Blakeman is? You don't follow the lineup of American Football Officials? Well, luckily we have the Internet.
According to Huskers.co, the official site of the University of Nebraska, Blakeman started his football career as a backup quarterback for the University of Nebraska from 1984 to 1987. Unable to pursue football professionally as a player, he found a different way to stay involved with the sport. In 2008, Blakeman became a field judge, according to Pro Football References. He was promoted to referee in 2010, and worked his way to being the head referee at the 2016 Super Bowl.
And it's a good thing too, because he gave men and women watching the game some serious eye candy. Even Andy Cohen of Bravo fame took note of the ref's good looks.
But for those hoping to snag a date with the ref, you're out of luck. Blakeman is married with two kids, as evident by the cover photo on his Twitter page. But just because he's married doesn't mean you can't look.