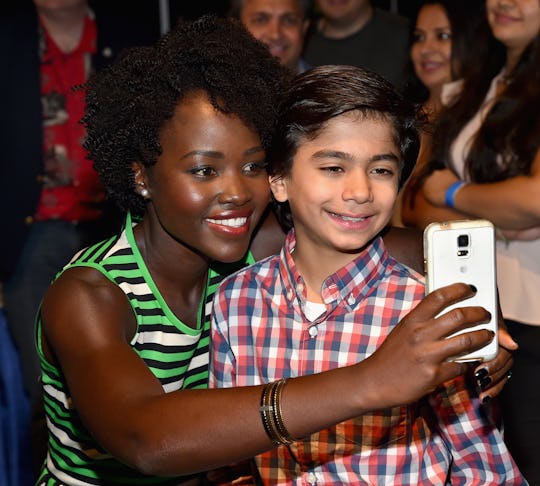 Alberto E. Rodriguez/Getty Images Entertainment/Getty Images
Who Is The Kid In 'The Jungle Book'? Mowgli Is Neel Sethi's First Big Role
Disney's animated version of The Jungle Book might hold a special place in many people's hearts (seriously, watching Baloo sing "The Bare Necessities" to Mowgli will never, ever get old), but the new live-action, mega star-powered, Jon Favreau-directed version of The Jungle Book coming to theaters in April? It looks like it'll blow the animated classic right out of the water. Viewers got a glimpse of the impressive trailer during the Oscars Sunday night, complete with super realistic CGI jungle beasts voiced by a big-name cast including Scarlett Johansson, Idris Elba, Lupita Nyongo'o, Bill Murray, Ben Kingsley, and Christopher Walken. But there was one big question left unanswered: who is the kid in The Jungle Book? It turns out that Mowgli is played by 10-year-old Neel Sethi, a newcomer from New York who was chosen from thousands of kids who auditioned not just in the U.S., but Canada, the U.K. and New Zealand, according to Variety (uh, no big deal, right?).
For a kid with absolutely no professional acting experience, Neel Sethi has nabbed a huge first role. For starters, Sethi is the only actor in the film who will actually appear in the film — despite the laundry-list of stars involved in the project, all the other characters are computer-generated. So he's essentially acting alone opposite a green screen the entire time.
That's a lot for a young actor to carry (or any actor, really), but it sounds like he has the full support of Favreau and the entire Jungle Book team. The director weighed in on Sethi in a statement, according to Variety:
Casting is the most important element of any film and finding the right kid to play Mowgli was imperative. Neel has tremendous talent and charisma. There is a lot riding on his little shoulders and I'm confident he can handle it.
Casting director Sarah Finn agreed:
He's warm and accessible, yet also has an intelligence well beyond his years and impressed us all with his ability to hold his own in any situation. Even though he has no professional acting experience, his natural charisma and instincts jumped out at us.
The film has been a big undertaking for Favreau, and one he said, according to Forbes, will be "his Avatar," referring to the epic 2009 James Cameron flick that boasted a seriously innovative approach to filmmaking (and, let's face it, was a colossal hit, earning $760 million at the box office, according to Forbes).
But the choice to produce the movie in such a technology-heavy way wasn't just about showing off: Favreau said it was a specific choice to stay true to Disney's original version that was so well-loved, according to Gizmodo:
The idea of going out to the jungle and shooting this just felt like it wouldn't have the magic the '67 film had. There was a dreamlike quality to it. There was a surreal quality to it. It was a high-water mark for character animation, because of the character and the emotion and the music. And that's what I remember about it, and so I wanted to make sure we preserved that.
So what does Neel Sethi make of all of it? He's just going with the flow. On his casting, Sethi told People,
I was just being myself. Me and Mowgli are so similar. We're both free-spirited, confident and stubborn.
And the hardest part about filming? Was it having his first professional acting experience be the leading role in a huge feature film where he was basically the only actor? Uh, not so much.
I'm not a big mud fan. So when it was on me, it had to dry there because of continuity, and then they would spritz it so it gets all wet, with cold water. It was just really itchy. I tried to rub it off.
Mud, right. Of course the hard part was the mud. Well played, kid.