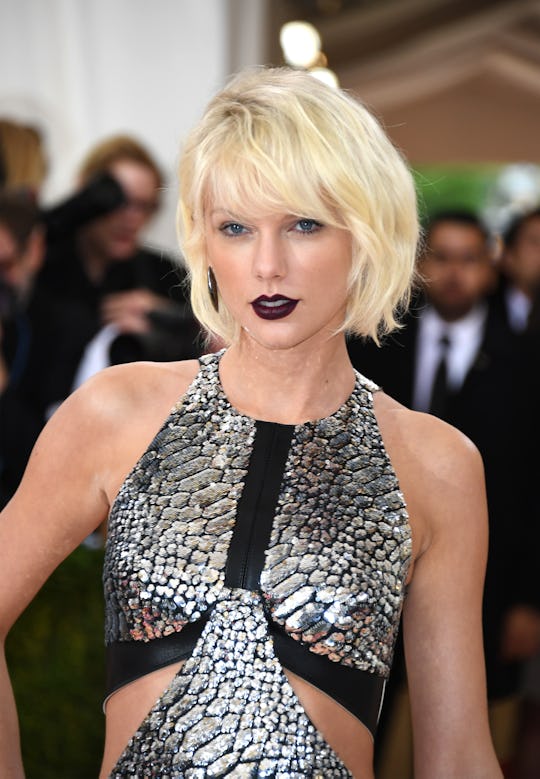 Larry Busacca/Getty Images Entertainment/Getty Images
Fans Have Theories About The Kid Who Says "Gorgeous" On Taylor Swift's New Single
On Thursday night, Taylor Swift dropped her latest single from Reputation, a track called "Gorgeous" that instantly raised questions among fans. There were a few questions that have been asked for almost all of Swift's songs — most notably, "who are these lyrics about?" — but there was one thing fans were asking on Friday that was unique to the newest Reputation hit. Um, who is the kid saying "Gorgeous" on Swift's single?
The song opens with a kind of creepy little voice — one that definitely belongs to a toddler — saying, "Gorgeous." It's the same line that Swift used to tease the song on Instagram, and fans are definitely curious about it. Romper reached out to Big Machine Records, Swift's record label, for clarification on the baby voice, but didn't hear back immediately. In the meantime, however, Swift fans have plenty of theories about who the voice might belong to.
Some fans speculate that the voice belongs to one of the growing number of children Swift can claim as godchildren (even when she's not officially their godparent, of course). Several women in Swift's squad now have kids of their own, including Jaime King, Joy Williams, Lily Aldridge, and Blake Lively, and fans are wondering whether one of the squad's kids was recorded saying "Gorgeous" for Swift's song.
On Twitter, some are saying the baby's voice belongs to one of Blake Lively and Ryan Reynold's daughters, James or Ines. After all, both parents reportedly punched the "like" button on Swift's new song announcement on Instagram (specifically, the clip of a baby saying "gorgeous") — so maybe they're proud of not just their friend Swift, but one of their daughters, as well.
Others have wondered if the voice can be credited to Lily Aldridge's or Jaime King's children. King's son, Leo Thames Newman, is Swift's godson, after all, and King has told Us Weekly in the past that Swift is an "amazing" godmother to her son.
Another theory being tossed around by fans is that the baby voice is actually the ultimate throwback — and belongs to Swift herself. "Who's that little kid saying gorgeous?" one fan tweeted. "Is that Taylor?"
To try and prove that it could be, fans pointed to the 2009 music video for "The Best Day," which features a tiny Swift talking to her mother. "I think the little girl in #Gorgeous is [Swift] when she was 3. Listen to the Best Day," one Twitter user theorized.
According to fans, there are already a few Swifties out there who know the answer to this whole baby voice mystery. According to those on Twitter, Swift answered a fan's question on Tumblr about the baby's identity with, "300 people know" — hinting at the fact that she'd revealed the news at her Reputation secret sessions, the ultra-exclusive listening parties she throws for fans before dropping a new album.
Until Swift or the child's parents decide to confirm the baby's identity, however, it's almost impossible to know. For now, all we have to go on is various fans' rumors and theories, which have been far-fetched enough as to question that it's actually Swift's child speaking during the recording. (I mean, anything is possible, right? And with that whole rumor of her being carried out of her apartment in a huge suitcase that happened back in July, I mean, she could have been hiding a pregnancy, right? And it's not impossible for an infant child to say "Gorgeous" that quickly, right? Right?!?!)
Hopefully the secret will be revealed in Reputation's album liner notes so the world can stop speculating. But hey, Swift, if you'd like to share the secret before then, your fans would really appreciate it.
Watch Romper's new video series, Romper's Doula Diaries:
Check out the entire Romper's Doula Diaries series and other videos on Facebook and the Bustle app across Apple TV, Roku, and Amazon Fire TV.