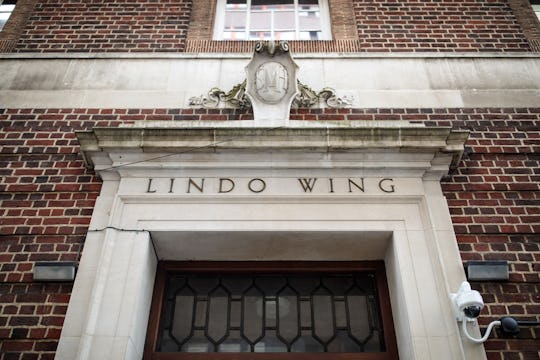 Jack Taylor/Getty Images Entertainment/Getty Images
Who Is The Lindo Wing Named After? The Wing Exists Thanks To This Philanthropist
St. Mary's Hospital in London has the honor of being the facility where Kate Middleton gave birth to both Prince George and Princess Charlotte. Prince William and Prince Harry were also born there, in the Lindo Wing of the hospital. And on Monday, Middleton gave birth to her third child and second son there, a prince whose name has not yet been announced. Now all this royal baby talk has got me wondering — who is the Lindo Wing named after, anyway? St. Mary's Hospital apparently named it after a philanthropist, and for good reason.
Before Middleton gave birth on Monday, the railings outside of the Lindo Wing at the hospital were given a fresh coat of paint, according to People. That was a good indicator to onlookers that the arrival of a new royal baby was imminent. Since the steps outside the wing are the first place the world was introduced to Prince George and Princess Charlotte, it's likely where we will see the new royal baby for the first time as well, and the spot has gotta be photo ready.
But staff at the hospital probably also want the entrance to the wing to look nice to honor the individual the wing is named after. He reportedly gave a lot of money to the hospital, and that's why the now very famous location was named after him.
The Lindo Wing at St. Mary's was named after hospital board member Frank Charles Lindo, according to Newsweek. The hospital itself was founded in 1845, but it wasn't until the businessman made a generous donation to the hospital that the wing got its current name.
Lindo donated £111,500 to the hospital, according to The Sun. A quick Google search indicates that that's the equivalent of around $155,500.69, which is a pretty sizable chunk of cash and was worth even more years ago when the donation was made.
The Lindo Wing is a private wing of the hospital, and has been overseeing births since 1937, according to Metro. St. Mary's Hospital is reportedly operated by the Imperial College Healthcare NHS Trust, and is an NHS hospital — meaning it's part of the National Health Service, which is the publicly funded national healthcare system in England. But it apparently costs a pretty penny to give birth specifically in the Lindo Wing of the hospital.
If the Duchess of Cambridge had a normal delivery and stayed for just one night in a deluxe room in the hospital, she and Prince William likely paid about $8,000 for it, according to TIME. If she reserved a suite in the Lindo Wing instead, the bill is reportedly more around $9,650, Us Weekly reported a few years ago after interviewing another British mother who gave birth there.
And that's all without additional fees or extra nights at the hospital. But Middleton didn't stay long at St. Mary's Hospital after her last two births, and she isn't likely to stick around for this one, if her history there is any indication.
Elisabeth Rosenthal, a former New York Times reporter who is currently with Kaiser Health News, estimated on Twitter in July 2013 that a royal birth in the Lindo Wing likely costs around $15,000. But keep in mind, that's less than her figures on a birth in the United States, which she pinpointed as having an average bill of around $30,000, with people actually paying $18,000.
I think it's safe to say a lot of parents in either country could use some of that donation money from a wealthy businessman like Lindo for their own births. Lindo reportedly wanted to do something to acknowledge the care he received from members of the nursing profession when he made his generous donation to St. Mary's, according to The Times. And writing a big check is certainly one way to do that.
Lindo is remembered now as a Jewish philanthropist who donated the wing in 1937, according to The Huffington Post. That wing is now arguably one of the most famous places in the world to give birth, so at the very least, Lindo's name and his legacy won't be forgotten anytime soon.
Check out Romper's new video series, Bearing The Motherload, where disagreeing parents from different sides of an issue sit down with a mediator and talk about how to support (and not judge) each other's parenting perspectives. New episodes air Mondays on Facebook.