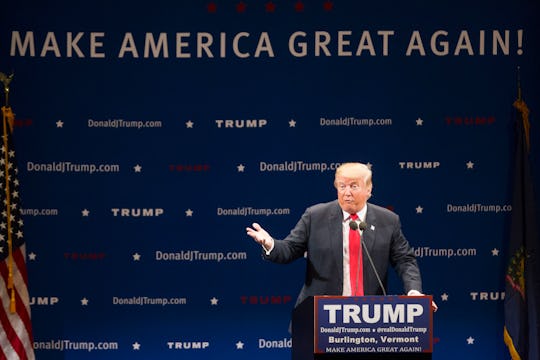 Who Is The Muslim American Woman Ejected From Trump Rally? Rose Hamid Took An Important Stand
There are many things I'd rather do than attend a Trump rally: say, make a special visit Bernie Sanders' barber, or receive a warm kiss from Jeb Bush. But some people have more moral chops than I do, and are willing to stomach Trump — like the fans who cheer him or those who attend Trump events for purpose of political protest. One such person was a 56-year-old Muslim-American woman who attended a Trump rally on Dec. 8 in Rock Hill S.C. But when Rose Hamid protested Trump at his rally, she was escorted out of the event. Let me back up here.
The Muslim-American Hamid, who works as a flight attendant, wore a hijab to the rally to, as CNN reported, show Trump supporters what the face of an actual Muslim person looks like. When Trump, who has gone on record calling for a temporary ban on Muslims entering the U.S., got to the part in his speech where he suggested that all Syrian refugees were ISIS members looking to infiltrate America, Hamid rose in silent protest.
Trump supporters took one look at Hamid and began pointing and booing. Hamid told CNN that soon thereafter, people at the rally started chanting "get out!" and one person shouted, "You have a bomb, you have a bomb!"
Hamid was then ejected from the rally. Major Steven Thompson of the Rock Hill Police Department reported that the official reason Hamid was kicked out is that she caused a disturbance, and campaign officials told him before the event that anyone causing a melee was to be removed from the rally.
While most people are praising Hamid's bravery for literally standing up to the racist, xenophobic, and bigoted ideology behind Trump's campaign, Trump fans are taking the opportunity to be, well, jerks.
However, the Twitterverse is showing a lot of support for Hamid's "courageous and loving" act of defiance.
#Islamophobia is trending on Twitter, at a time when our nation is divided over so many common-sense issues. What does this Islamophobia say about the state of affairs we're in? I shudder to think.
Some news outlets, like the Washington Examiner, are suggesting there's more to this story than is being reported by CNN, which broke the story. The author of an article in the Washington Examiner, Timothy P. Carney, was at the event, and though he concedes Hamid did nothing to justify her ejection, she did stand up seconds after another violent protester was removed from the scene.
No one from Trump's campaign has spoken to the press about the incident at the time of this publication.
Image: Scott Eisen/Getty