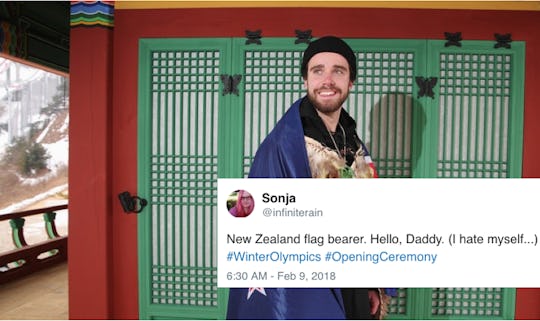 Andreas Rentz/Getty Images Sport/Getty Images
Twitter Freaked Out Over New Zealand's Hot Flag Bearer, & It's The Best
Having the opportunity to represent your country at the Olympics is always a big deal, but this year, 22-year-old freeskier Beau-James Wells has been given the additional honor of being the New Zealand flag bearer at his second Olympic Games, according to The New Zealand Herald. But it's not just his talent that has caught fans' attention — his good looks are earning him a lot of attention on social media.
Of course, Wells definitely has the skills to back it up: according to the New Zealand Olympic Committee website, Wells has been competing as a freestyle skier since he was 15 years old, and in 2014, he represented his country at the Winter Olympics in Sochi, placing sixth in halfpipe and taking 21st place in slopestyle. In PyeongChang, Wells will be vying for a medal in halfpipe, and if he makes it, the celebration will definitely be a family affair: two of his three brothers also made the New Zealand team for freestyle skiing as well (no word though on whether they too happened to be particularly blessed in the looks department).
Of course, being attractive isn't at all a prerequisite for being picked as an Olympic flag bearer, but you wouldn't necessarily know it as far as the New Zealand Olympic team is concerned. In 2016, sailors (and New Zealand team co-captains) Peter Burling and Blair Tuke carried the flag for New Zealand at the Rio Summer Olympics, according to News Hub, and, well, let's just say that viewers were impressed. Like Wells, Burling and Tuke wore the customary kakahu cloak during the Parade of Nations, and Twitter was definitely here for it:
In an interview ahead of the games in South Korea, Wells said he was definitely gunning for his New Zealand teammates to pick up some medals at the games, according to New Zealand's 1 News, and described the feeling of being picked to carry the flag as "unreal." But the attention sounds well-deserved: Freeskier named Wells as one of the athletes to watch in Pyeongchang, noting that "his halfpipe tricks will win him the contest while his smooth-as-butter style will appease the fan boys."
Judging by the social media reaction to Wells so far though, it wouldn't be entirely surprising if his appearance at the opening ceremony also earned him a whole new fan base. And while Wells may have spent much of his career being compared to his Olympic athletes brothers, his flag-bearer debut may have been just what he needed to take the spotlight on his own.
Yet as competitive as the brothers must be with one another, Wells has said that getting to compete alongside them has helped him become the athlete he is now. According to the PyeongChang 2018 Olympic website, Wells spoke to The New Zealand Herald in 2013 and said,
It's helped me with my career because I've seen what Jossi and Byron have had to go through to get there, so I'm not as blind as they were. I know what it takes. [I've also learned to] try not to get too carried away, don't take it too seriously and you don't want to make it your whole life. You want to go out and have as much fun as you can while still having that competitive drive, but you don't want to do it that much so it's not fun anymore, because that's why we're doing it.
As ready as Wells seems to be to leave his mark in PyeongChang, he'll definitely have his work cut out for him. He'll be up against Team USA's Shaun White in the men's halfpipe event, according to ESPN, as well as Australia's Scott James, who became the youngest male Olympian in 50 years when he competed at the 2010 Vancouver Winter Games. Given the attention Wells has been getting from his opening ceremony appearance though? It seems like his PyeongChang Olympic experience is off to a pretty great start.