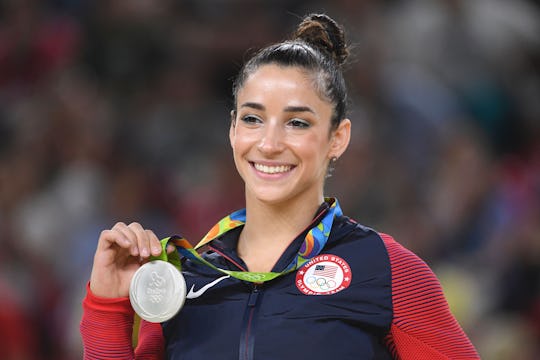 TOSHIFUMI KITAMURA/AFP/Getty Images
Who Is The NFL Player Who Asked Aly Raisman On A Date? They're Going Out In September
In Rio this year, the Team USA gymnasts absolutely dominated their sport — and, apparently, captured a few viewers' hearts. For example, after Simone Biles won five medals at the Olympics, her long-time crush, actor Zac Efron, flew down to meet the team (and give Biles a Snapchat-worthy kiss on the cheek). But Biles isn't the only gymnast who's got game: During Aly Raisman's very public interview with Yahoo! Sports last week, an NFL player joined in and asked her out on a date. So who is the NFL player who asked Raisman out?
That would be one Colton Underwood, a tight end for the Oakland Raiders. When the topic of dating came up during Raisman's interview, she mentioned fellow gymnasts Nastia Liukin and Shawn Johnson's propensity for trying to set her up. When Yahoo! Sports then gave Raisman a phone to watch a video on, Raisman asked, "Did Shawn put you up to this?" before pressing play. (Good instincts, Raisman.)
"Aly, what's up?" Underwood began, introducing himself and congratulating her on her Olympic success. "If you're ever in San Jose and want to go on a double date with me and Andrew and Shawn, let me know."
Raisman was then super chill, handing back the phone and saying nonchalantly, "They've actually told me about him before. He's very cute. Yeah, I would go on a date with him."
Judging from his social media, Underwood seems like a pretty awesome dude. He's 24 years old to Raisman's 22. He runs his own non-profit, the Colton Underwood Legacy Foundation, which raises money for cystic fibrosis while encouraging kids to play sports. He frequently helps out humane societies across the United States, and uses his celebrity to help local animals get adopted. He also owns his own sports bar, 4th and Goal, in Washington, Illinois (i.e., Underwood better offer free yam fries whenever you want them, Raisman).
He sounds pretty perfect, considering Raisman likes a guy who plays sports, isn't too crazy a partier, and respects driven women. (It also helps that she thinks he's "very cute," a fact that I will not argue.)
Luckily for both Underwood and Raisman, Raisman's gymnastics tour will be swinging by San Jose in September, so the athletes won't have to wait too long before their double date. Now that the whole world knows about it, fans will probably be expecting a group selfie from the event — as if first dates weren't awkward enough.