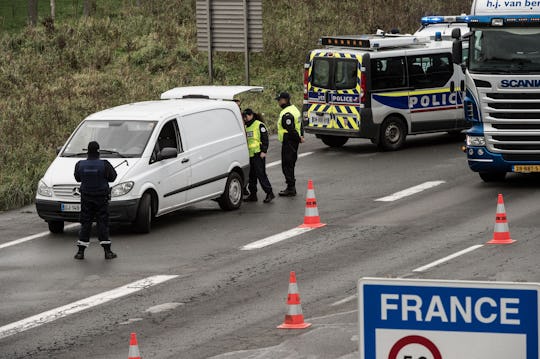 PHILIPPE HUGUEN/Getty Images
Who Is The Second Fugitive In The Paris Attacks? The Latest Reports Say A New Suspect Is Still At Large
On November 17, French officials announced they are seeking a second individual involved in the Paris attacks. While it has been known for several days that a single suspect was at large, this latest news is, in a word, troubling. So who is the second fugitive in the Paris attacks? According to the latest reports, we don't know much yet, as he — or she — has yet to be identified.
While it was initially believed that there were only seven attackers — the seven who died Nov. 13 — French and Belgian authorities have since issued a warrant for Salah Abdeslam, whose brother Brahim was one of the suicide bombers.
According to the Associated Press, police sources told French newspaper Le Monde "that is believed the car that was used in the attacks on the nightspots was carrying three people. Two of those attackers have already been identified as Brahim and Salah Abdeslam, leaving the possibility a third unidentified gunman is still on the run." On Monday, Brahim and Salah's brother Mohamed issued a plea on the French television channel BFM, urging Salah to turn himself in:
We're family, we're thinking of him, we're wondering where he is, whether he's scared, is he eating...[but] of course I call on him to turn himself over to the police. The best outcome would be for him to turn himself in so that judicial processes can shed light on this story.
A French official told sources that Salah and his brother Brahim had been renting lodging in the suburbs surrounding the French capital for days prior to the attack. And while the search is on for this second suspect, authorities have only issued a warrant for Salah Abdeslam.
This story is developing...
Image: PHILIPPE HUGUEN/Getty Images