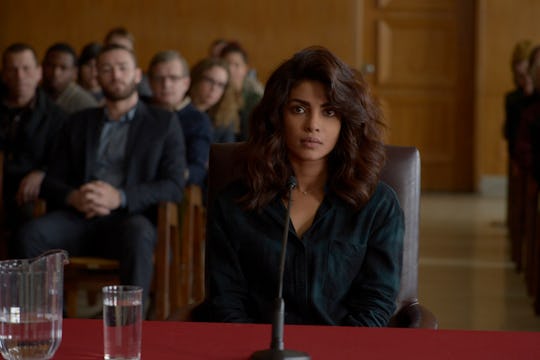 Phillippe Bosse/ABC
Who Is The Second Terrorist On 'Quantico'? Alex's Intuitions Were Right
There's never been a clear answer for any question Quantico has thrown at viewers, and the spring premiere is no different. The series is still trying to answer the question of who was behind the Grand Central bombing, and Alex is trying to prove that there might be someone in addition to Elias Harper, the NAT-turned-lawyer who confessed to it. Despite everyone's set beliefs that Elias worked alone, Alex is convinced there's a second terrorist on Quantico. And, as the first season's return episode proved, she's 100 percent right.
Throughout the return of the show, Alex fought with basically everyone at the FBI — her classmates, her superiors, everyone — about there being another terrorist who was working with Elias. She continued to reference the fear that Elias had in his eyes before falling out the window in the winter finale that screamed he was working for someone he was afraid of. Despite her intuition, there's no proof that Elias was acting with someone, so Alex eventually gave in and agreed with the Bureau's theories — lying on the stand in front of a judge, since she didn't really believe what she said.
As it turns out, Alex's intuition was right, like always. At the final moments of the episode, Alex receives a call from an unknown person — whose voice has been jumbled — to meet her at an abandoned part of town. Right away we know this is probably the second terrorist that Alex has been trying to get out of the wood work, but it's still a mystery of who it actually is.
Alex, without telling anyone, goes to the abandoned part of town with no idea what she's getting herself into to meet the mystery caller. There, she finds Natalie — who I think is her friend now? — and is horrified to see that Natalie has a bomb strapped around her waist, probably thanks to Mystery Terrorist #2.
Though we don't know the identity of this person, their phone call to Alex gave us a few clues. First, we know that they first saw her at Quantico's FBI academy. They also said that their relationship (the terrorist and Alex's) took time to develop, which is basically everyone on Quantico for Alex. Finally, they said that they're going to make Alex a terrorist, an scary threat but also confusing. Are they planning on killing Natalie and framing Alex? Is framing Alex even something that's going to work after everything that happened in the first part of the season?
As far as we know, now, there are two terrorists. One of them was Elias, and the other is TBA. Expect the rest of the season to explore the identity of the TBA terrorist, but just know that we're working with a whole new pool of suspects now that the older class of NATS have joined the show.