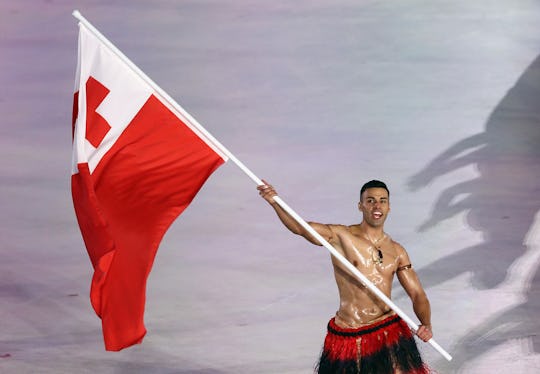 Jamie Squire/Getty Images Sport/Getty Images
Tongan Flag Bearer Pita Taufatofua Returns To The PyeongChang Olympic Games Still Shirtless
It might be pretty cold in PyeongChang, South Korea, but that didn't stop one athlete from what is probably a much warmer island nation from going shirtless in the opening ceremony, much to the delight of Twitter and other viewers watching the festivities. Who is the Tonga flag bearer at the PyeongChang opening ceremony, and why did he choose... shall we say, an interesting outfit for the event? He's done this once before at an Olympic games, but at least for that one, he wasn't braving freezing temps when he got people talking about his shirtless ensemble.
Pita Taufatofua is a 34-year-old Polynesian athlete, and he made headlines at the 2016 Summer Games in Rio when he went shirtless to the opening ceremony for those games too, according to Sports Illustrated. At those Olympics, he competed in taekwondo. This time around, Taufatofua is trying his hand at cross-country skiing, Vox reported.
But it's not as if Taufatofua wore what he did at either games just for the attention. He actually wore a traditional outfit from his nation, PEOPLE noted. He just happened to be wearing it while also sporting a well-oiled torso as he held his nation's flag in the opening ceremony in PyeongChang.
In fact, Taufatofua has lamented the fact that people don't always see the athlete behind the shiny torso. After he worked hard to qualify for these Olympic games, he told NBC:
People don't see the hard work that goes behind. They just see the shiny guy that walks with the flag.
Taufatofua is absolutely a hard-working Olympian who has more than earned his place in these Olympic games. But he almost didn't get there.
Taufatofua finally qualified to compete in cross-country skiing at these games during the final weekend of the Olympic qualifying period in Iceland, after failing seven previous opportunities to qualify for PyeongChang, NBC reported. That just goes to show you that if you want something badly enough, you've just got to keep at it.
In fact, Taufatofua is a great example of someone who decided to follow a dream and didn't give up on it when things got difficult. In 2016, he decided to pick up a new sport in order to compete in the Winter Games for his country, despite the fact that his previous speciality was in taekwondo.
When Taufatofua picked up skiing in another attempt to bring home a medal for Tonga, he had never actually tried it before. But he wanted to prove to others that anyone can try something new, even when it comes to competing in the Olympics. He told PEOPLE in 2016:
I wanna show people who aren't into sport or are having struggles in their life, that they can do something completely new, completely out of their comfort zone, and enjoy that journey and get somewhere with it.
I've put on the skis for 4 minutes, 3 minutes, just for some of the press release and that sort of thing, but I've never really put skis on in my life!
And if that's not an example of really living out the phrase "you only live once," I don't know what is.
So yes, Taufatofua did in fact brave the cold at Friday's opening ceremony in PyeongChang bare-chested, despite the fact that it was 32 degrees Fahrenheit out when he did so, according to CNN. But that's hardly the most difficult thing he's ever done.
Taufatofua is the sole representative for Tonga at these Olympics, and he had to compete in races in Colombia, Turkey, Poland, and Armenia in his attempts to make the cut, Vox reported. He and his group drove three days through a blizzard from Croatia to Iceland to try one last time to get Taufatofua qualified for the games. At one point, an avalanche even closed off the road, NBC reported.
So yea, going shirtless for the opening ceremony? Not exactly an Olmypic feat compared to those struggles.
When it comes to skiing, Taufatofua may just be getting started, but he is determined to make a name for himself. He told PEOPLE when it comes to training, his mentality is "to train as though I'm chasing down that gold medal."
As the first Tongan to appear in both the Winter and Summer Olympics, Taufatofua has already created a legacy that goes well beyond that of "the guy who came shirtless to the Olympic opening ceremony." And even if it seems like that's all viewers are talking about when it comes to the Olympian, make no mistake — Taufatofua is out to prove that he's there to be much more than just a well-oiled machine.
Check out Romper's new video series, Romper's Doula Diaries:
Watch full episodes of Romper's Doula Diaries on Facebook Watch.